HOW COOL IS THAT!: International Petroleum Negotiator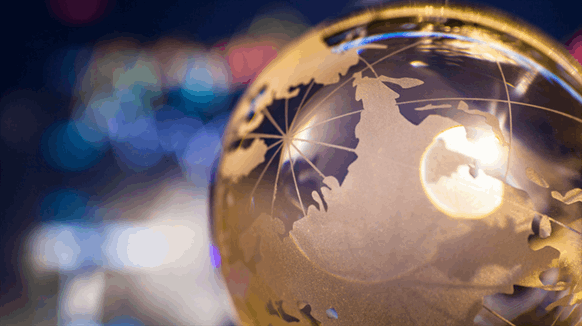 Globe-trotting oil and gas dealmaker tells Rigzone what makes his career cool.
Are you interested in an oil and gas career that requires a broad set of commercial and people skills and enables you to visit far-flung places throughout the world? If so, petroleum negotiation may be for you.
Rigzone recently chatted with Houston-based John Bridges, who reflected on his career making deals on behalf of oil and gas companies throughout the United States, Asia, Africa and Europe. Bridges currently serves as executive director of the Association of International Petroleum Negotiators (AIPN), a professional organization comprising more than 4,200 members in 110 countries. Read on for Bridges' insights about petroleum negotiation.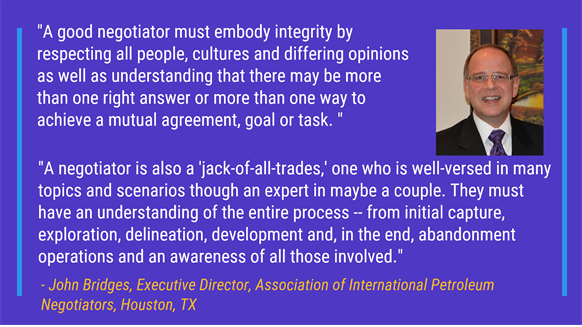 Rigzone: What does a petroleum negotiator do?
Bridges: The petroleum negotiator's role is constantly varied, encompassing an assortment of fields such as: business, geology, psychology, diplomacy, law, engineering and international relations to name a few. The negotiator interfaces on behalf of the company they represent, working to come to agreements with other companies and/or governments in which they are conducting or wish to conduct business either to secure rights to explore and produce hydrocarbons or to mutually work together in their exploration, development and production.
Rigzone: How does one get into this line of work?
Bridges: Often times, negotiators will start their careers in domestic land management and eventually transition to international deals. My background is in petroleum land management. I also have an MBA with a concentration in finance. In my case, early on in my career I expressed an interest in international work at Atlantic Richfield Company (ARCO). My colleagues informed me that a stepping stone to get into an international role was to first work domestically in the California production units and heavy oil operations, then to progress to Alaska to work Prudhoe Bay and to work with the Alaska Native Organizations. Several executives also recommended that I first work production before exploration so the contracts one negotiates, in the event of success, would transcend and transition from early exploration and discovery to delineation, development, and onward into abandonment. After working on Alaska projects, I transitioned into International. Working Alaska is a great stepping stone because it is one of two domestic areas that operates more like international. Working offshore Gulf of Mexico also is a great stepping stone to international work.
Rigzone: How is the occupation changing and what is the outlook for the future?
'A Discovery and A Journey'
One key to being a successful petroleum negotiator is to see the deal-making process as "one of discovery and a journey," AIPN's John Bridges told Rigzone.
"You can do the same contract repeatedly, though there will always be derivations due to the needs of the parties involved – each is a unique transaction," he explained. "The discovery is in identifying the uniqueness of a transaction between the parties and the journey being the way in which one approaches and moves through the process."
Bridges: I am a commercial person with a background in petroleum land management and an MBA with a concentration in finance. I know a little about a lot of things and when it's important to pull in the experts (such as engineers, explorationists, accountants, risk managers, lawyers and teams from transportation, marketing and operations, along with many others) to address the particular details of a transaction that is being contemplated.
The art is to balance all the needs on the side that the negotiator is representing with the needs and desires of the others with whom he or she is either working with as partners or from whom he or she is sitting across the table in a direct negotiation. It's the ability to not be wed to one solution in working toward achieving an agreement because give and take is always involved. That said, sometimes a negotiator will be in a "no deal" situation and must walk away. When a "no deal" scenario would arise, my personal position was to never close the door or allow a loss of face by any party in the room. My position was that it was no one's fault, the stars just did not align to meet everyone's objective, and all parties gave their best efforts.
I see the occupation continuing to evolve as the realization occurs that the negotiator is the "equalizer" who strives to achieve balance and who is not wed to a rigid process. Yet, the negotiator is responsible for seeking a solution and reaching an agreement based on common principles to which all parties can agree.
Rigzone: What are the "coolest" aspects of the job?
Bridges: At first, it was seeing the world and all the beauty in its cities and landscapes --though very quickly that changed. And while I still enjoyed the beauty of various cities and landscapes, I grew more fond of understanding the different cultures and beliefs of the people I was visiting and recognizing the beauty in these cultures and how they were derived.
As an example, on one of my trips to Naypyidaw (capital of Myanmar) to meet with the Burmese government officials, I met Aung San Suu Kyi on the plane ride over from Yangon. While her story is remarkable in and of itself, coming to understand the integral role of her father, Aung San, in obtaining Myanmar's independence during World War II is equally important to understanding the struggles and evolution of the country's history and its culture. On that same trip, I visited a small agricultural village outside Naypyidaw. The people I met there were hard-working, very caring and proud of their heritage. I have found that it is the people that make a country what it is. Although the many cultures have differences, we all share the same desire to want the best for our family, friends, our village, town and country.
1
2
View Full Article
Generated by readers, the comments included herein do not reflect the views and opinions of Rigzone. All comments are subject to editorial review. Off-topic, inappropriate or insulting comments will be removed.