Expert: No One Got This Right
"Virtually no one got this right. Nobody saw this scenario coming. No one said that we would see a complete collapse down to $30 per barrel of oil," said Charles Davidson, former CEO and chairman of Noble Energy, Inc. and venture partner for Quantum Energy Partners.
And yet here we are.
Davidson, a leader in the field, addressed attendees of the Mayer Brown 11th Annual Global Energy Conference Tuesday. He explained how the industry got to this point. He also outlined what needs to happen to get out of this mess.
At the corporate level, companies will have to:
address financial issues by slashing spending, securing cost reductions and repairing balance sheets; and
reexamine business models (i.e. investment opportunities viable in lower price world, is the business sustainable stand-alone, revise long range plans to fit with price expectations)
At a macro or larger scale:
global supply/demand needs to achieve balance (with reduced drilling, the supply is starting to come down; inventories need to bleed off, hopefully demand growth will help)
During a morning panel, industry experts focused on strategies related resource reallocation, restructuring. Here are a few excerpts:
In response to whether or not there is a preferred selection of assets for distressed companies, Fraser McKay, research director-corporate analysis for Wood Mackenzie, said the hot areas are the ones with the best economics. For example, the Permian Basin is one of the best spots to try and acquire assets.
With so many recent high-profile bankruptcy filings such as SandRidge Energy and Breitburn Energy Partners, panel moderator Charles Kelly, a partner at Mayer Brown, asked of helpful strategies in the restructuring process. "You don't want to go into a bankruptcy without the support of as many creditors as you can get … E&P companies in general don't exactly thrive in bankruptcy," said David Baggett, founder and managing partner of Opportune LLP.
In response to whether it's more dominant in the current marketplace for people to come in and buy opportunistically, Geoff Richards, head of US debt finance and restructuring for Canaccord Genuity, said while it's fluid, he knows of a company that filed Chapter 11 bankruptcy and is selling assets. In time, there were people who came in and bought the company's debt at a discount, which was their intent.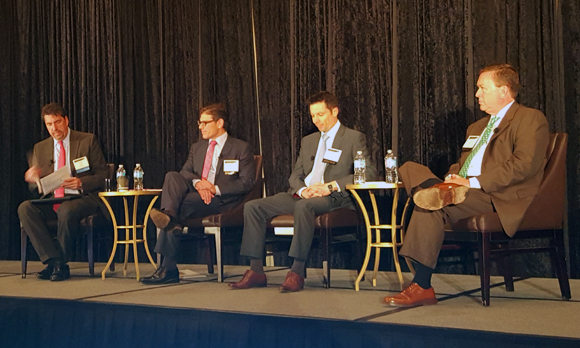 Panelists pictured (l-r) are Charles Kelly, partner, Mayer Brown; Geoff Richards, head of US debt finance & restructuring, Canaccord Genuity; Fraser McKay, research director-corporate analysis, Wood Mackenzie; and David Baggett, founder and managing partner, Opportune LLP.
Generated by readers, the comments included herein do not reflect the views and opinions of Rigzone. All comments are subject to editorial review. Off-topic, inappropriate or insulting comments will be removed.