Partnership to Take Rock-Fluid Research to the Atomic Level
|
Friday, September 18, 2015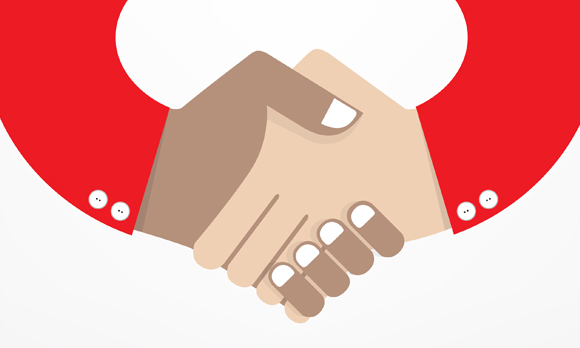 A public-private partnership will allow University of Wyoming researchers to conduct what they believe is the first-ever study of oil-fluids movement at the atomic level.
A partnership between FEI Company and the University of Wyoming (UW) will enable for the first time ever the study of interactions between fluid and rocks at the atomic level for oil and gas research.
The research – which aims to advance digital rock technology to achieve a better understanding of the fundamental forces at play in rock-fluid behavior – could potentially impact the entire oil and gas life cycle, from better well design for production to more effective enhanced oil recovery techniques for mature fields.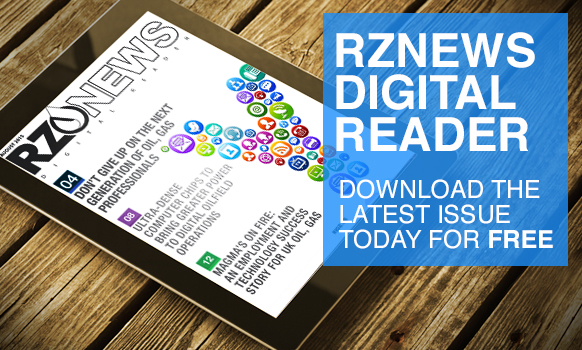 Through the collaboration, FEI, which designs, manufactures and supports a broad range of high-performance microscopy workflows, will provide UW with state-of-the-art imaging equipment, software and support for digital rock research. These tools will allow university researchers to study flow and transport behavior in both unconventional and conventional oil and gas reservoirs.
The Wyoming Legislature's state matching program will contribute an amount equal to the equipment and support provided by FEI -- a total impact of $24 million. The contribution of equipment and funds will launch the new Center of Innovation for Flow in Porous Media, which will focus on advancing scientific understanding of subsurface flows. This goal is part of the university's Tier-1 Engineering Initiative and the School of Energy Resources' Strategic Areas of Concentration to transform the university into a top tier school for engineering and science undergraduate and graduate education and research.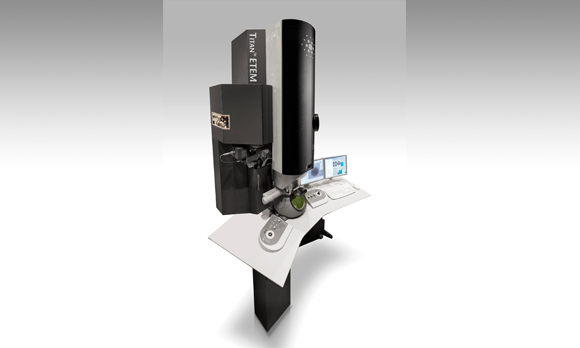 Equipment provided by FEI will expand UW's researching capabilities for oil and gas to the atomic level.
Source: FEI
The center will develop the tools and knowledge needed to predict the behavior of subsurface flows, an essential component of both carbon recovery and storage, and its fundamental research will result in published experimental data and predictive modeling software. The center, which will be housed in the High Bay Research Facility at UW, will contain around 90,000 square feet of traditional and high-bay research laboratories, offices and meeting areas. Installation of the equipment will take place during this year's third quarter and through year-end 2016. The center is expected to open next summer.
FEI – a $1 billion, publicly traded company involved in oil and gas, semiconductor, life science and material science sectors – will provide a full-suite of equipment to researchers. This equipment includes micro-computed tomography equipment, FEI's Heliscan technology, dual beam instrumentation, and an environmental transmission electron microscope, the Titan ETEM. These tools will allow researchers to look at oil-rock interactions at the micron-scale, pore or nano-scale, and atomic scale, Rudy Kellner, FEI's Industry Group vice president, told Rigzone in an interview.
The microscope will provide researchers with the capability look at rock-liquids interaction on the atomic scale – to the best of FEI and UW's knowledge, this is the first time that fluid-rock behavior can be studied at the atomic scale. The atomic scale, which 10 to the minus 11 meters, is the smallest scale that can be reasonably studied with existing technology today. That's smaller than nano, which is on the 10 to the minus 9 meter scale, said Kellner.
FEI has supplied the university with technology for many years, but the prospect of digital rock research at such an unprecedented level got the company excited enough to want to participate. This type of study requires a high level of expertise to operate this type of equipment and to interpret its results.
"This is not trivial machinery," Kellner noted.
FEI's confidence in UW researchers is part of the reason for its excitement. The center will be led by Wyoming Excellence Chair in Petroleum Engineering Mohammad Piri, whose research is aimed at a better understanding of the micro and core-scale physics of flow and transport in man-made and naturally occurring porous media.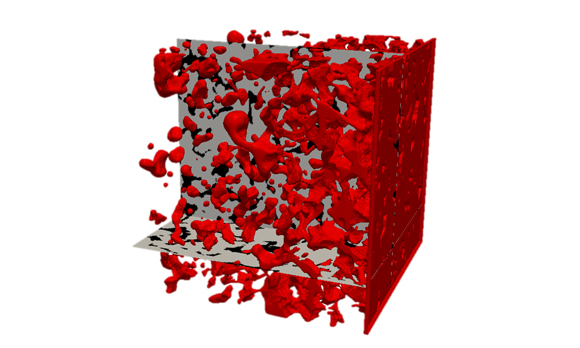 A model representing a pore-scale flow simulation – can help E&P operators see and understand reservoir permeability.
Source: FEI
Over the past few years, researchers in Piri's program have worked to fill the knowledge gaps in current experimentation and modeling of multi-phase displacement mechanisms in mixed-wet porous systems, with applications for key technologies for energy and the environment. Piri and his team seek to bridge the gap between fundamentals and applications in porous media flow systems consistent with the fundamental scientific needs of the industry, UW said in a press statement.
Despite ongoing study, researchers still haven't been able to understand at the pore level what happens when fluid and rock interact due to the number of forces at play inside these rocks. Laboratory experiments to study oil recovery typically involves taking large cores and draining fluid from these cores to see what comes out at the other end, Kellner said. The amount of fluid recovered is estimated by subtracting what comes out with what was put in.
The research has implications not only for Wyoming's oil and gas industry, but the worldwide industry as well. The oil and gas companies that have approached to university have been asking questions about enhancing oil recovery, not only for plays in the United States, but globally, Kellner said.
Despite low oil prices, FEI still believes that oil and gas companies are interested in studying and investing in new technologies at this time to prepare for the time when oil prices rise again.
"When oil prices are high, everybody is drilling and producing, and nobody has time for science," Kellner said. "The goal is to be able to give service companies and operators the information they need so they can extract hydrocarbons in a smarter manner, and access plays that aren't economic now."
UW Program Seeks Twin Prizes in Oil Recovery
Better understanding the behavior of rock and fluids could make a huge impact on a company's bottom line by enhancing the amount of oil recovered, said Mark Northam, director of the university's school of energy resources, in an interview with Rigzone. Even a 5 to 10 percent improvement in recovery could make a difference.
"UW's research aims at two prizes – going back and recovering oil left behind from easy reservoirs, and getting more of the oil that exists in difficult reservoirs," Northam said. "We're focused on making that oil that doesn't want to move to move to the surface."
UW's program is characterized by its combination of experimental work with numerical simulation. That in itself is not different from other research programs. What is different about UW's program is UW researchers' ability to recreate reservoir conditions for rocks and the three phase fluid context – water, oil and gas – and run experiments and image what's happening in real time. Northam also credits Piri – a world leader in this area of research – as another differentiating factor in UW's program.
"The fact that UW has access to this technology and expertise and is working directly with oil and gas companies gives UW's research a relevance that other research groups don't have."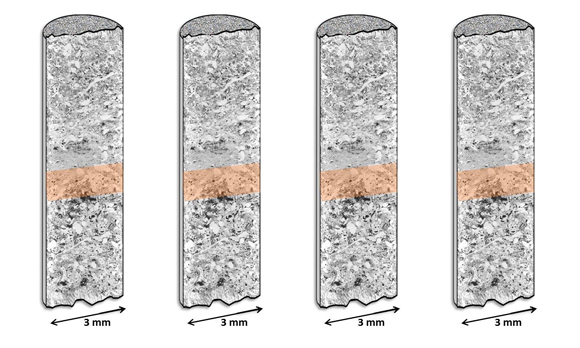 A 3D reconstruction of a tall carbonate plug sample using HeliScan – area in orange indicators coverage area of a conventional circular microCT without needing to move the sample and manually stich datasets together. Source: FEI
The university in general has been involved in oil and gas research for many years – with the level of activity rising and falling with the big trends in the economics of energy over time – but research has ramped up significantly in the past 8 years, Northam said. Since 2006, the university has invested literally hundreds of millions of dollars for research, including $70 million directly from the private sector, for oil, gas and coal research. This research has grown to be one of the biggest areas of research on the UW campus.
The FEI collaboration is part of UW's Tier One Initiative to transform its engineering and science programs to rank among top tier universities. The initiative was launched in May 2012 by Wyoming Gov. Matt Mead, the State Legislature and the Wyoming Governor's Energy, Engineering, STEM Integration Task Force, with funding approved last year of $8 million for Phase One of the Engineering Initiative, in addition to $18.4 million for facilities development. As part of this initiative, the university has been improving its facilities, hiring faculty members to fill gaps in its programs, and recruiting high-achieving students, Northam said.
The university has worked with a number of oil and gas companies. Hess Corp. ranks among its biggest partners, with $25 million of sponsored research and donations. The school also has worked with regionally significant producers such as Ultra Petroleum, oil service companies Baker Hughes and Halliburton, oil and gas majors Marathon Oil Corp., Royal Dutch Shell plc and Anadarko Petroleum Corp., and national oil company Saudi Aramco.
Oil and gas companies have been exploring for oil and gas in Wyoming for more than a century, according to Petroleum Association of Wyoming. In 2014, Wyoming ranked seven in terms of crude oil production; in 2013, the state ranked fourth in the United States in natural gas production. In 2013, oil and gas production by itself accounted for more than 40.4 percent of total property taxes levied in Wyoming and over 69.4 percent of the property taxes levied on all minerals.
Generated by readers, the comments included herein do not reflect the views and opinions of Rigzone. All comments are subject to editorial review. Off-topic, inappropriate or insulting comments will be removed.