EIA: Shale Oil Production Cuts to Get Bigger Next Month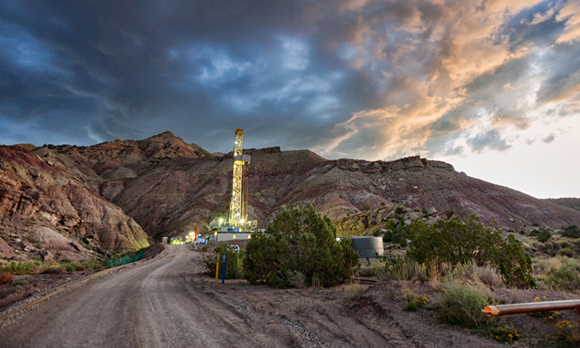 The U.S. lost about 1 percent of the oil production flowing from its shale formations this month, and the decline is just starting.
(Bloomberg) -- The U.S. lost about 1 percent of the oil production flowing from its shale formations this month, and the decline is just starting.
Output from the prolific tight-rock formations such as North Dakota's Bakken and Texas's Eagle Ford shale will slide 54,227 barrels a day this month, based on Energy Information Administration estimates. It'll fall another 86,000 barrels in June to a five-month low of 5.56 million, the agency said Monday.
Last year's plunge in crude prices led to the steepest and most prolonged retreat from U.S. oil fields on record. Drillers have idled more than half the country's rigs and eliminated tens of thousands of jobs. Some of the country's largest shale producers including ConocoPhillips and EOG Resources Inc. have said spending cuts were deep enough to curb domestic output.
"Even if 10 rigs come back today, we're still going to see production decline,' Amrita Sen, chief oil analyst at consultant Energy Aspects Ltd. said by phone from London on May 6. ''We've reached this inflection point where there aren't enough rigs drilling to offset legacy declines."
West Texas Intermediate crude for June delivery rose $1.04 to $60.29 a barrel in electronic trading on the New York Mercantile Exchange at 8:05 a.m. local time. Futures have rallied about 44 percent since March 18 amid speculation that oil production is poised to fall.
Output Drop
Standard Chartered Plc forecast on May 4 that U.S. shale oil output will drop about 78,000 barrels a day in June from a month earlier, with declines totaling 137,000 barrels a day in the second quarter.
The drop in shale output may prove short-lived. The rebound in prices has drillers including Pioneer Natural Resources Co. preparing to put rigs back to work in U.S. fields. The Irving, Texas-based company said last week that it may deploy more rigs as soon as July.
"Prices are at a level where you're inviting the deployment of rigs again, so the view of supply significantly falling may be misguided," Harry Tchilinguirian, the head of commodity markets strategy at BNP Paribas SA in London, said by phone on May 6.
The EIA's June production forecasts cover the yield from major plays that together accounted for 95 percent of domestic output growth from 2011 to 2013.
Output from the Eagle Ford in Texas, the second-largest oil field in the U.S., will slide by 2.8 percent in June to 1.64 million barrels a day. Production in the Bakken region of North Dakota will drop 2.4 percent to 1.27 million, the EIA said.
Yield from the Permian Basin in West Texas and New Mexico, the largest U.S. oil field, will continue to rise, climbing 0.3 percent to 2.06 million.
The EIA's oil-production estimates are based on the number of rigs drilling in each play and how productive they are. The number of oil rigs in service across the country has fallen for 22 straight weeks, reaching 668 on May 8, the fewest since September 2010, according to field services company Baker Hughes Inc.
--With assistance from Bradley Olson in Houston.
To contact the reporter on this story: Lynn Doan in San Francisco at ldoan6@bloomberg.net To contact the editors responsible for this story: David Marino at dmarino4@bloomberg.net James Herron, Rachel Graham