Industrial Radio Cuts through Noise of Digital Oilfield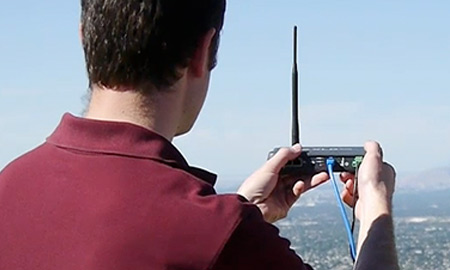 Industrial radio technology can help cut through the noise at oil and gas exploration and production sites as the industry employs more wireless systems.
The growing number of wireless systems utilized in today's digital oilfield – and the expansion of production and pipeline sites to remote, harsh environments – has made today's exploration and production sites "noisier" than they were in the past. Digi International is seeking to meet demand for long-distance, reliable data transmission technology to cut through the noise of 'mission-critical' industries such as oil and gas with its new industrial radio.
Released in January, Digi said the XLR Pro is the first unlicensed 900 megahertz (MHz) industrial radio that can reliably transmit data over more than 100 miles. Aaron McNally, marketing development manager with Digi, told Rigzone that most of the common wireless systems that are available run on frequency hopping spread spectrum (FHSS) or the direct sequence spread spectrum (DSSS). These systems are good for changing channels if they detect interference, like switching a channel on an FM radio to get a better signal.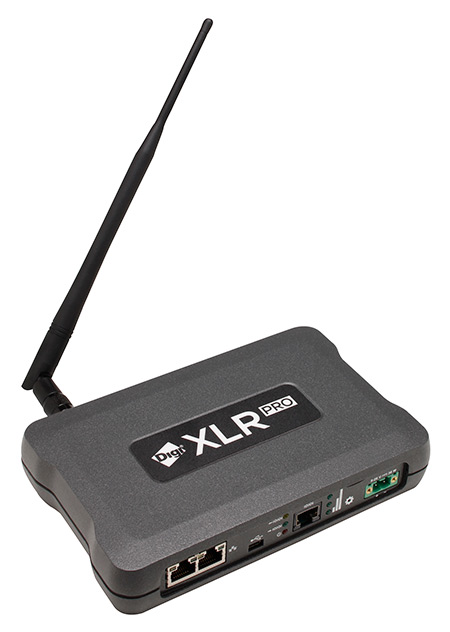 Digi XLR PRO™ Long-Range 900 MHz Industrial Radio
Digi's Punch2 technology uses chirp spread spectrum modulation to provide interference immunity, better receive sensitivity, improved multipath performance and better interference rejection than available through FHSS or DSSS. By doing so, data is spread to a higher bandwidth by multiplying each transmit modulation symbol with a chirp signal.
According to Digi, the energy of a chirp signal is relatively flat across the wideband spectrum. By contrast, a narrowband interferer will rise significantly above the level of the wideband chirp signal. For example, an interferer with a bandwidth of 100 kilohertz (KHz) and a signal level equivalent to the desired signal would have a spectral density that is 20 decibels (dB) higher than the desired signal. An energy threshold is calculated above the spectral density of the chirp signal, Digi noted in a white paper.
"Any energy above this threshold is assumed to be interference and deleted. Using this technique in combination with the processing gains, Punch2 technology can suppress narrowband interference by up to 65 dB."
By leveraging chirp spreading, Digi's technology can deliver higher processing gains than other radio technologies, leading to greater receive sensitivity. During the de-spreading process, any signal that doesn't correlate with the chirp signal is filtered, primarily leaving the desired signal. Digi's Punch2 technology uses a length 1024 chirp signal to spread the modulating symbols to a 9.6 MHz bandwidth, which provides a processing gain of 30 Db when operating at the lowest data rate.
Digi's Punch2 Technology also uses a RAKE receiver architecture to coherently recover multipath signals. Multipath occurs when a radio signal travels along different paths.
"A receiver deploying this architecture aligns the phase of the multipath components such that they constructively combine," said Digi. "This helps the receiver not only accommodate severe multipath distortion, but also enhances receiver performance."
The radio supports data-rate changes from 9.38 kilobits (Kbps) to 3.18 Kbps. A lower data rate can be used in interference if interference is significant or the signal to be received is weak.
"This significantly improves the ability of the Digi XLR PRO to maintain communication in harsh RF environments," Digi noted.
Rise of Digital Oilfield, Remote Operations Boosts Use of Wireless
The rise of digital oilfield technology – in which oil and gas companies continue to implement more intelligent technology at production sites and pipelines – and the oil and gas industry's expansion into remote parts of the United States and Canada means that the number of wireless systems at oil and gas sites has grown and will keep growing, McNally said.
In the case of oil and gas operations, the "noise" comes from a number of different sources. These include other 900 MHz radios connected to SCADA systems and built into connecting digital oilfield monitoring sensors – including measurements and readings of temperature, pressure, toxic gas, level sensors for tanks, and artificial lift systems – as well as other systems found at drilling and well sites. Because the XLR PRO uses a different modulation and spread spectrum scheme than other 900 MHz products on the market, the interference caused to and by the XLR PRO should be minimized. Radio equipment outside of the 900 MHz band, such as 2.4 Gigahertz, should not be affected by the XLR PRO.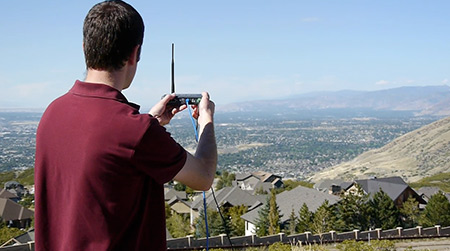 XLR Pro Range Test – mountaintop to mountaintop in Utah
The fact that sites are located in mountaintops, in remote areas, or areas with extreme changes in temperature. These types of environment can reduce liability and hinder performance of wireless signals. As a result, many oil and gas fields are saturated with RF noise, which many times leads to interference and data loss.
McNally said that users often turn to unlicensed 900 MHz wireless solutions to connect devices over longer distances in situations where using cables and wires to connect devices and sensors is physically impossible or cost-prohibitive. To address the noise and keep communication systems from going down, companies have been buying up radio frequency (RF) spectrum space on industrial, scientific and medical radio bands, portions of the radio spectrum reserved globally for the use of RF energy for industrial, scientific and medical purposes other than telecommunications, to guarantee they can transmit data. Not only are data service providers doing this, but oil and gas companies as well.
"Our technology allows you to survive in an unlicensed 900 MHz environment without having to buy a spectrum," said McNally.
He didn't give specific numbers on cost; more often than not, licensed systems are more expensive than unlicensed.
The XLR Pro would sit in between the tower where the satellite or cellular backhaul system exists and the SCADA system at the local site, acting as an aggregator. The XLR Pro would take the place of installing multiple cellular gateways, which in some cases would be deployed over several miles.
"Sometimes you're communicating from a site to a point just a couple of hundred feet away; other times, you're communicating over an extremely long distance," said McNally.
McNally, who has more than 20 years' experience installing wireless systems, said the technology, which can operate in a range of up to 150 miles, only seems limited by the earth from a long range standpoint.
Industrial Radio Example of IoT Technology
The industrial radio is one example of how Internet of Things (IoT) technology is being applied to the oil and gas industry. While IoT technology has numerous applications in the consumer realm, such as wearable technology and smart homes, it also has a number of industrial applications.
IoT is emerging as the third wave in the development of the Internet, thanks to breakthroughs in the cost of sensors, processing power and bandwidth to connect devices, according to a September 2014 report by Goldman Sachs. By 2020, IoT could potentially connect up to 28 billion thing to the Internet, from bracelets to cars. By comparison, the 1990s fixed Internet wave connected 1 billion users; the mobile device wave in the 2000s connected another 2 billion.
Connected wearable devices, connected cars, connected homes, connected cities and the Industrial Internet are five key early verticals for the adoption of IoT technology, according to Goldman Sachs. Smart phones, ubiquitous wireless coverage, Big Data and IPv6, the newest version of the Internet Protocol standard that is now supported by most networking equipment.
Internet of Things technology is viewed by some as a means for the oil and gas industry to boost efficiency, productivity and safety. All the factors were already considered priorities by oil and gas companies, but the downturn in global oil prices likely will force industry to seek innovative ways to be efficient and productive at lower oil prices.
To realize the full potential of the Industrial Internet, businesses and governments will need to overcome a number of important hurdles, primarily security and data privacy. Increased connectivity and data sharing has made companies more vulnerable to attacks, espionage and data breaches.
"Until recently, cybersecurity has focused on a limited number of end points," according to a World Economic Forum report, "Industrial Internet of Things: Unleashing the Potential of Connected Products and Services". "With the advent of the Industrial Internet, these measures will no longer be adequate as the physical and virtual worlds combine at a large scale."
The World Economic Forum reports that organizations will need new security frameworks that span the entire cyber physical stack, from device-level authentication and application security, to systemwide assurance, resiliency and incidence response models.
Despite concerns over data and security privacy associated with IoT technology, Donald Fisher, senior director of energy solutions at Software AG, believes that lower oil prices will push exploration companies towards IoT technology. Fisher said in a Jan. 21 press statement that the decline in global oil prices will force companies to add automation and IoT sensors, giving them the ability to optimize operating efficiencies and reduce labor and services costs.
The security of communications and sensor-based systems are not new to the industry, said Fisher. Supervisory Control and Data Acquisition systems – which are essentially IoT – have been employed in the energy industry for many years. Companies typically have addressed the security challenge by operating private communications networks that have clear lines of demarcation from public networks, and by limiting user access and managing user authentication and rights.
"As communications-based sensor technology becomes ubiquitous, the desire the open systems in a way that allows additional services to be provide through connected devices, will increase the security challenge," Fisher told Rigzone. "For any network connected systems, effectively managing user access, authentication, and rights will be the primary challenge and concern, so firms will have to decide whether and how remote access will be granted."
For these network connected systems, greater use of analytics will be employed to help firms leverage security logs, which may currently generate hundreds of thousands of records daily, to better understand network intrusion attempts and patterns, Fisher said.
Generated by readers, the comments included herein do not reflect the views and opinions of Rigzone. All comments are subject to editorial review. Off-topic, inappropriate or insulting comments will be removed.