BP, Shell Urge Scotland to Vote against Independence
|
Thursday, September 11, 2014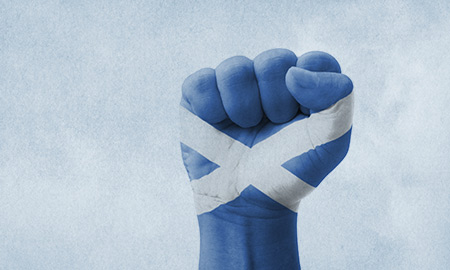 With a week to go before Scotland's independence referendum, BP and Shell come out in support of Sir Ian Wood's view that the Scottish people are being misled by the Yes campaign.
A week to go before the Scottish independence referendum, BP plc and Royal Dutch Shell plc have both come out in support of comments by Scottish oil tycoon Sir Ian Wood that Scotland's voters are being misled by the pro-independence campaign's unrealistic predictions of future oil revenues.
Speaking to the press in Edinburgh Wednesday, Wood warned that a slowdown in production means that North Sea revenues will not exist in 30 years. Wood had previously stated, in late August, that there would be consequences for the oil and gas sector if Scotland were to go independent and that there would be just 15 years before the depletion of North Sea oil reserves began to hit the Scottish economy.
Wood was also highly critical of figures recently produced by N-56 – a Scottish business organization with connections to the Yes Scotland campaign – that stated an additional 21 billion barrels of oil equivalent is potentially recoverable from the North Sea from unconventional shale resources.
"Frankly that's an insult to the intelligence of the Scottish people," he said. "First of all, if it was true a whole lot of oil and gas companies would be doing it right now, but there's one very small company looking at what can be done. Secondly you cannot economically exploit shale offshore. You need a huge number of wells, which are very expensive and that's not going to work. You might manage to drill into some of the rock offshore and exploit that, but no-one's done that so far."
Later on Wednesday, BP and Shell both issued separate statements supporting Wood.
BP Group Chief Executive Bob Dudley commented:
"BP has been in the UK North Sea for 50 years and we hope to operate here for many years to come. However, the province is now mature and I believe Sir Ian Wood correctly assesses its future potential.
"The opportunities today are smaller and more challenging to develop than in the past. We also face the challenges of extending the productive life of existing assets and managing the future costs of decommissioning. Much of this activity requires fiscal support to be economic, and future long-term investments require fiscal stability and certainty.
"Our business invests for decades into the future. It is important our plans are based on a realistic view of the North Sea's future potential and the challenges the industry faces in continuing to operate here.
"As a major investor in Scotland – now and into the future – BP believes that the future prospects for the North Sea are best served by maintaining the existing capacity and integrity of the United Kingdom."
Shell CEO Ben van Beurden added:
"Sir Ian Wood is right in his technical assessment that the amount of remaining oil and gas that can be profitably extracted from the UK North Sea is a function of price and cost. As existing infrastructure gets older and output falls, costs will go up and tax receipts will come down. Furthermore, much of the UK North Sea's remaining oil and gas – which is yet to be discovered and developed – is in isolated or hard-to-reach areas, which are potentially uneconomic without sharing of existing infrastructure and improved tax incentives."
Meanwhile, the Scottish National Party also issued a statement mid-week welcoming a new paper from Professor Alex Kemp of the University of Aberdeen in which he predicts 99 new oil discoveries over the next 30 years that will be commercially viable as well as a further 57 that will be uneconomic but could become viable as a result of technological improvements and a higher oil price.
Commenting on the research, Scottish Energy Minister Fergus Ewing said: "Professor Alex Kemp is one of the world's leading oil economists, wrote the official history of North Sea oil and has detailed modelling on the future of Scotland's oil and gas industry. His new predictions – based on that modelling – show a bright future for Scotland's oil and gas sector for decades to come."
Generated by readers, the comments included herein do not reflect the views and opinions of Rigzone. All comments are subject to editorial review. Off-topic, inappropriate or insulting comments will be removed.