Subsea Friction Clamps May Provide More Precise Subsea Monitoring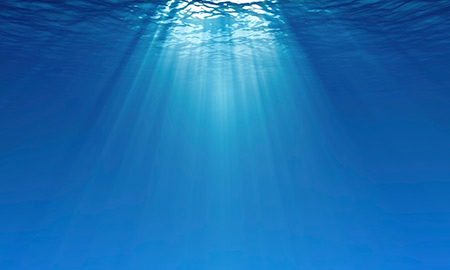 Subsea friction clamps developed by Houston-based Astro Technology may enable more precise monitoring of subsea assets in water depths of up to 10,000 feet.
Subsea friction clamps developed by Houston-based Astro Technology may enable more precise monitoring of subsea assets in water depths of up to 10,000 feet.
The clamps were recently tested by scientists at the National Aeronautic and Space Administration (NASA). Last year, NASA and Astro partnered to develop and test subsea monitoring clamps applied to offshore platforms using a unique, proprietary underwater adhesive.
Astro and NASA are hoping to achieve the same strong coupling and high-quality monitoring without adhesives.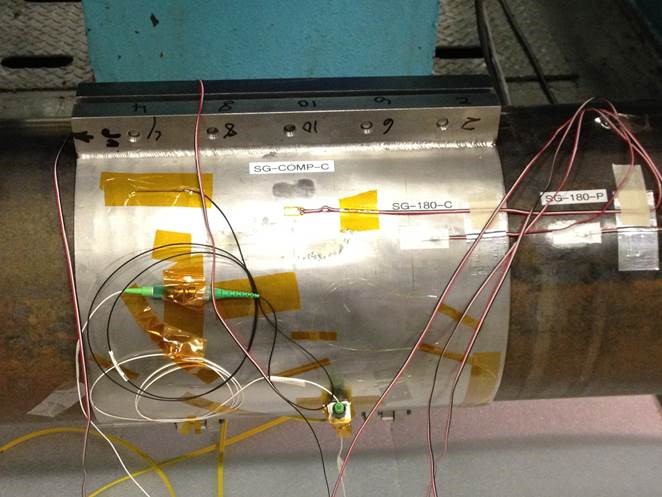 Astro Technology's newly developed friction clamps, tested at NASA's Johnson Space Center, will enable precise, fiber-optic monitoring on a wider range of deep-sea assets. SOURCE: Astro Technology
"In an ideal situation, a pipe or platform leg is able to be cleaned and adhesive applied by a professional diver," said Astro President and CEO David Brower in an April 7 press release. "Of course, that's not always feasible. Our new friction clamp will allow sensory systems to monitor equipment at a greater range of depths and in various conditions."
The clamps underwent three different kinds of tests: tensile load tests, compression tests and four-point bending tests.
In the tensile load test, the pipe was pulled at either end at a load level close to yield stress. In the compression test, the pipe was pulled at either end at the same strain level as the tension load test.
In the four-point bending test, the ends of the pipe were pushed upwards while two points on either side of the clamp were compressed downward.
"The benefits of a four-point bending test is that it shows expansion and contraction simultaneously while controlling the strain level," Brower said. "For this test, they went to a strain level just below yield stress."
The tests variously applied ambient pressure and cycled between 5,000 and 10,000 psi.
The clamp remained coupled to the pipe throughout all the tests. Based on the results, the friction clamps could be installed at depths up to 10,000 feet – far beyond the reach of divers. Each clamp is outfitted with fiber-optic sensors to monitor the load, tension and strain on pipe.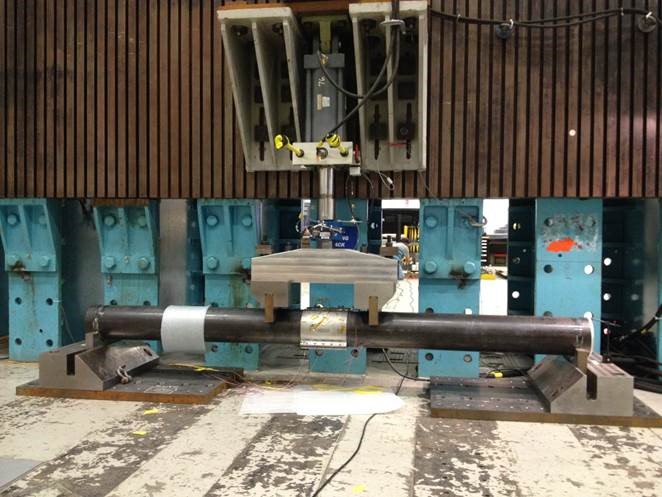 The clamps underwent tensile load tests, compression tests and four-point bending tests. SOURCE: Astro Technology
Fiber optic sensors were chosen for this task due to three main advantages: high sensitivity, ruggedness and multiplexing capability.
"The last is key: multiplexing capability allows for multiple sensors (as many as 20 or 30) on a single fiber-optic strand," Brower told Rigzone.
Each clamp attaches to a pipe by a friction mechanism that allows for very strong coupling and prevents slipping between the clamp and the pipe.
"Preventing coupling slippage is key – if you have any slipping, the measurements taken will be inaccurate," Brower told Rigzone.
All tests were performed on friction clamps attached to representative steel pipes, four inches and eight inches in diameter.
A mini-robot, roughly the size of an average monkey and equipped with a high level of dexterity, is paired with each clamp.
"The size of each robot may vary, but the largest would be about the size of NASA's Robonaut.
Deepwater systems would be installed by a remotely operated vehicle and maintained by miniature subsea robots, a new technology development at Astro.
Brower was part of a team that designed in 2000 NASA's Robonaut, a humanoid robot developed to assist astronauts with Extra Vehicular Activities (EVA) such as space structure assembly and repair operations. The Robonaut is equipped with human-looking, dexterous hands complete with five fingers to accomplish its tasks. The Robonaut hand is one of the first being developed for space EVA use and is the closest in size and capability to a suited astronaut's hand.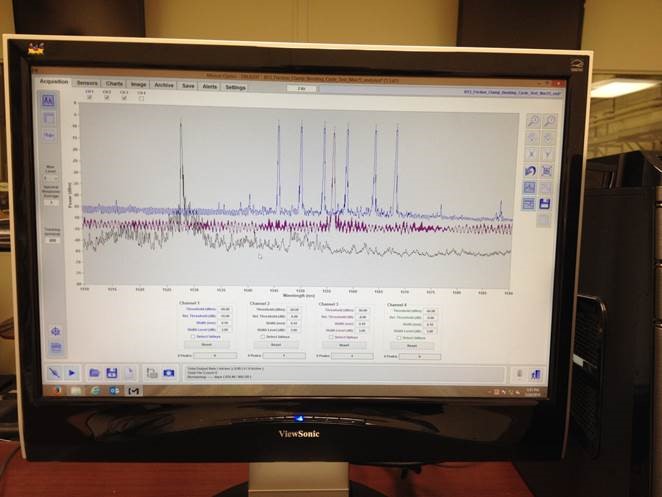 Results of the tests were carefully measured by scientists at NASA research facilities.
"Now we're seeking to bring the same long-distance dexterity from outer space to subsea," Brower commented, adding that he envisions a system of mini-Robonauts that would remain with their assigned clamps to make needed repairs in real time.
"The subsea monitoring systems developed by Astro allow decision-makers topside to detect problems almost instantaneously," Brower said. "Miniature subsea robots will take this one step further, allowing problems to be repaired as swiftly as they are discovered."
Field tests for the friction clamps would ideally take place in various places around the world, but the first will most likely take place in the Gulf of Mexico. The adhesive clamps have already been field tested and are currently active in the field in West Africa, where they collected more than a year's worth of data.
The research is part of an ongoing project, Clear Gulf, which combines the resources of private firm Astro and NASA's Johnson Space Center. The Clear Gulf joint industry project, a collaboration of Astro and NASA, seeks to apply technology for intelligent subsea operations.
Generated by readers, the comments included herein do not reflect the views and opinions of Rigzone. All comments are subject to editorial review. Off-topic, inappropriate or insulting comments will be removed.