Cuadrilla CEO: Greens Making the 'Perfect' the Enemy of the 'Good'
|
Thursday, February 20, 2014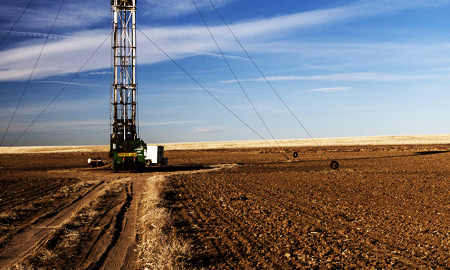 Environmentalists opposed to shale gas fracking risk damaging the role that natural gas can play in combating manmade carbon dioxide emissions.
Environmentalists in the UK are in danger of "making the perfect the enemy of the good" when they oppose shale gas fracking, the CEO of pioneering UK shale gas firm Cuadrilla Resources has claimed.
In a speech given to attendees of the Energy Institute's International Petroleum Week 2014 in London Wednesday afternoon, Cuadrilla CEO Francis Egan argued that natural gas has an important role to play in combating manmade carbon dioxide emissions.
Egan said that although environmentalists argue that Mankind has "discovered enough fossil fuels and therefore we don't need to find any more because we can't burn all the fossil fuels we've already found", from a CO2 perspective different types of fossil fuels are far from equal with C02 emissions associated with coal being an order of magnitude greater than CO2 emissions associated with gas. He added that people who advocate powering the modern world solely with renewables "are not being straight".
"We are in great danger of making the perfect the enemy of the good here, and we really do need to increase our gas usage and decrease our coal usage at the same time as pursuing renewable alternatives. Unfortunately, in the UK that is not happening. So, we set great store by how our renewable share of electricity is increasing, but if you look at the numbers coal is increasing even more," Egan said, pointing out that more than 40 percent of the UK's electricity came from burning coal in 2013.
"The fact of the matter is that we use just one-third of our gas for electricity [generation]. If we generated all of our electricity with renewables tomorrow we'd still be using two-thirds of the gas we're using today because most of it is used for heating.
"And there is no possibility that we will be heating all of our homes with electricity in any short period of time. Firstly, we don't have the generating capacity, and, secondly, we would have to completely overhaul the national electricity transmission system to do that."
Egan gave his speech on the same day Cuadrilla announced it had launched a community consultation on proposed exploration sites in the Fylde area of Lancashire, northern England. The firm said that last week more than 220 people attended two separate information days in which Cuadrilla invited residents to find out more about two new sites it is planning in the area.
Generated by readers, the comments included herein do not reflect the views and opinions of Rigzone. All comments are subject to editorial review. Off-topic, inappropriate or insulting comments will be removed.