Oil, Gas Industry's Top 5 Kidnapping Hotspots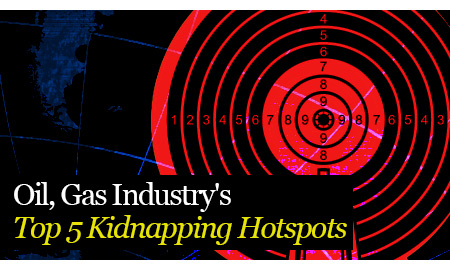 January's attack, and subsequent hostage crisis, at the BP and Statoil-run In Amenas gas facility in Algeria by Islamist terrorists brought home just how dangerous some parts of the world can be for the expat oil and gas worker. An inevitable consequence for the oil and gas industry as it moves into "frontier" areas in its search for reservoirs rich in hydrocarbon resources is the increased security risk of operating in some of the world's most dangerous countries and regions.
But while the In Amenas incident, which caused the deaths of 39 foreign hostages and an Algerian security guard, might have brought to the fore the threat to the oil and gas sector from Islamism in North Africa, other parts of the African continent, and indeed, the world, have far more prevalent incidences of hostage taking and kidnappings.
Of course the kidnapping of energy workers can happen anywhere oil and gas work is carried out, as the case of British oil worker Malcolm Primrose's kidnapping in June showed. Primrose had been working for an Indonesian oil firm in the Aceh province of Indonesia, which is generally regarded as safe for foreign workers. Fortunately for Primrose, he was released from captivity unharmed soon after his ordeal.
Indeed, the vast majority of cases of hostage taking and kidnapping in the oil and gas industry do not result in harm coming to the staff taken.
Rigzone has sifted through recent news reports of kidnappings as well as studies by security experts to come up with the five greatest hotspots for the kidnapping of oil and gas workers: