Hydraulic Fracturing Demand Boosts Silica Sand Mining
|
Friday, September 28, 2012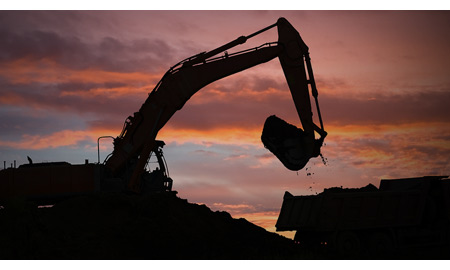 The surging demand for hydraulic fracturing sand was responsible for a rise in silica sand production in the United States in 2010, according to data from the U.S. Geological Survey (USGS). Total industrial sand and gravel production in the United States grew to 29.9 million metric tons in 2010 from 24.6 million metric tons in 2009.
"Additionally, most major silica sand producers had production capacity increases for hydraulic fracturing sand along with the addition of newer hydraulic fracturing sand operations to the USGS voluntary survey of U.S. producers," according to the USGS's 2010 Minerals Yearbook.
In the hydraulic fracturing process, fracking sand - also known as a proppant - is pumped in a mixture of chemicals and water into shale wells to hold open fractures to allow oil and gas to be produced. The proppants keep the fractures open after the pumps stop and water pressure declines.
Much of the natural silica sand that meets the 14 individual American Petroleum Institute requirements, including size fraction, roundness and sphericity, crush resistance and turbidity, is found in northern Illinois, southeastern Minnesota and southwestern Wisconsin.
Frac sand needs to be nearly pure quartz, well rounded, and have a high compressive strength, generally between 6,000 pounds per square inch (psi) and 14,000 psi, according to a January 2012 report on silica sand mining in Wisconsin by the Wisconsin Department of Natural Resources.
The U.S. Midwest led the United States in terms of industrial sand and production gravel, with 49 percent of the 29.9 million metric tons produced in 2010 coming from this region, the USGS 2010 Minerals Yearbook reported. The leading industrial sand and gravel producing states included Illinois, Texas, Wisconsin, Minnesota, Oklahoma, North Carolina, California and Michigan.
Wisconsin's Century-Old Sand Mining Industry Sees Uptick in Activity
While sand mining has been an industry in Wisconsin for more than a century, the recent hydraulic fracturing boom has contributed to an increase in sand mining activity in the state. Demand for hydraulic fracturing sand has increased exponentially in the past two to three years, according to the Wisconsin Department of Natural Resources report.
Wisconsin has at least 87 operating sand mines, with dozens of proposals for new mines and 36 processing facilities, said William Scott, a geologist and environmental lawyer with the Milwaukee-based law firm Gonzalez Saggio & Harlan.
In 2011, Wisconsin produced 12 million metric tons of sand, according to a July 2012 environmental update written by Scott.
The high quartz content sand is ideal not only for hydraulic fracturing but for glass making, said Scott.
Interest in frac sand mining has been predominantly in western central Wisconsin, although due to the price of fracking sand versus other sands due to other sands, some other markets are apparently being shorted, new mines are being opened or existing mines expanded, said Tom Woletz, senior manager and special projects coordinator for the Wisconsin Department of Natural Resources Water Division.
"We are seeing new mines open up or existing mines being expanded outside of the frac sand range," Woletz said, noting that most of the activity seems to be for foundry sand.
Sand Mining Boom Creates Jobs Potential, Raises Issues
An estimated 2,700 people in Wisconsin could potentially be employed in the state's sand mining industry, according to data from the Wisconsin Economic Development Corporation.
The average sand processing facility is estimated to create 50-80 new jobs, according to a Wisconsin Department of Natural Resources report. The average sand mine will create around 10 jobs. This does not include the secondary jobs that would be created from the need to transport sand, according to the report.
The construction of sand mines and processing facilities will have a short-term secondary impact on the building and trades sectors, with potential for increased sales of mining and other heavy equipment such as dump trucks.
Increased sand mining activity could mean more high-paying, long-term jobs for the local economy in Wisconsin, but displaces other land uses and may bring increased traffic and other impacts to a rural area, according to the Gonzalez Saggio & Harlan bulletin.
Besides increased traffic, public comments received by the Wisconsin Department of Natural Resources regarding increased sand mining have been focused on:
noise
lights
hours of operation
damage and excessive war to roads from truck traffic
public safety concerns from truck traffic volume
possible damage from blasting
concerns regarding land use changes
The boom in sand mining activity has generated strife within Wisconsin counties, said Scott, who has been working with Wisconsin counties on writing ordinances for sand mining. Some counties have established moratoriums on sand mining to allow for ordinances to be put in place.
Five counties and 10 towns in Wisconsin currently have moratoriums on sand mining, said Scott.
The purpose of the moratoriums is to give local governments time to look at their existing ordinances and regulations to evaluate their adequacy in protecting the public's interest with regard to mining activity, said Woletz.
"A moratorium that was put in place simply to ban mining would not be legal in Wisconsin," Woletz noted.
The moratoriums are typically short term, lasting six months to a year. During that time, the local unit of government is expected to make an effort of good faith to update their ordinances.
The Wisconsin Department of Natural Resources regulates sand mining and processing activities through a number of permits, with all mines and processing plants except very small ones requiring an air permit. Stormwater permits are also required for all nonmetallic mines. The Department of Natural Resources also screens for the presence of endangered and threatened species and historical and archaeological resources. A permit from the Department of Natural Resources is also required if waterways or wetlands are disturbed, said Woletz.
The counties administer the NR 135 reclamation permits and the floodplain and shore zoning rules, but with oversight from the Department of Natural Resources, Woletz said.
"With the gold rush mentality, I think there were concerns about fly by night operators coming into the state trying to make a lot of money," said Scott.
Anti-mining groups have also been feeding hysteria about toxins involved in the sand mining process.
However, out-of-state companies with longstanding mining operations don't operate that way, Scott noted.
"They're business people who realize they'll be here for a long time," said Scott, who spoke on the topic of sand mining at a recent Wisconsin County Association meeting. "The people [at the counties] want to do the right thing, but mining is a new industry to them," said Scott, who has been seeking to educate local government officials on the sand mining process to enable better decision making once sand mining moratoriums come to an end.

Scott thinks the new industry association, the Wisconsin Industrial Sand Association (WISA), could address concerns about whether toxic substances are used in the sand mining process.
U.S. Silica and three other companies have formed WISA to address concerns of local communities in Wisconsin. In addition to playing a role as an industry resource, WISA establishes a strict Code of Conduct to which all members must abide, the company said in a statement.
"As part of WISA, U.S. Silica aims to show that, with a proper balance between sound operations, adherence to the Code of Conduct and good community relationships, the sand mining industry can operate safely, protect the environment and continue to generate a significant and positive economic impact," said Mike Winkler, vice president of operations at U.S. Silica, in a Sept. 10 statement.
Shinn said the company is constantly monitoring emission levels from its plant sites and uses a chemical free, water-based process to mine sand. At its new Sparta, Wisconsin, facility, scheduled to open in the second quarter of 2013, local residents and the community were involved in planning and development of the facility.
As a result, the company is making a number of investments in technologies to limit noise, light and dust on the property, U.S. Silica said in a statement. The company is also installing community air monitoring devices, establishing annual community advisory meetings, and using rail as the primary mode of transportation.
"We have spent a lot of time working with the communities to get them comfortable with what we do," said Shinn. "We're very proud of the relationship we have with the local communities, and feel that we're the kind of company that is good to have in the neighborhood."
EOG Committed To Safe, Responsible Operations
Houston-based EOG Resources, which completed and placed into operation a new state-of-the-art sand processing facility in Chippewa Falls, Wisc., said it is committed to operating its facilities in a safe and responsible manner that meets or exceeds all state and federal environmental and safety regulations.
The company's processes include enclosed conveyer belts and equipment designed to capture and substantially reduce dust and other by-products to safeguard employees, contractors and neighbors.
"Through the use of proven technology and best management practices, EOG is taking steps to further minimize any possible risk associated with its sand operations," a company spokesperson told Rigzone in an email statement.
The first unit train of processed sand was dispatched from Chippewa Falls at the beginning of January 2012. The majority of the initial trains are destined for a new EOG sand facility in Refugio, Texas. From there, the sand is shipped primarily to the South Texas Eagle Ford play.
Since 2008, EOG has been operating its own sand mine and sand processing plant located in north Texas, helping fulfill EOG's sand needs in the Barnett Shale Combo play.
During 2011, EOG increased its sand mining and processing operations to supply sand for its well completion activities. EOG purchased a second processing plant in north Texas in 2011, and began regular shipments of EOG-owned unprocessed sand from Wisconsin. After final processing at the north Texas facility, the sand is being utilized in key EOG plays.
EOG is also in the process of permitting a new sand plant in Cooke County, Texas, a company spokesperson said.
Generated by readers, the comments included herein do not reflect the views and opinions of Rigzone. All comments are subject to editorial review. Off-topic, inappropriate or insulting comments will be removed.