About the online degree program - Master of Jurisprudence in Energy Law
The energy industry is looking for current and emerging professionals of all stripes— not just attorneys—who understand the nuances of energy law. With an online Master of Jurisprudence in Energy Law (MJEL from The University of Tulsa College of Law, you can help prepare yourself to become one of the experts that companies want and need to stay compliant in today's legal climate. The MJEL from TU Law is designed to advance your understanding of the laws that govern the energy industry and is offered 100 percent online to allow you to enhance your career potential without having to leave your current position.
For executives, professionals and lawyers who work in energy and natural resources, there will always be a need to stay current on the legal requirements that impact their day-to-day decisions. Electric power, sustainability, renewable energy and oil and gas professionals, plus all those who work on advanced business contracts relating to energy resources, are tasked with high-stakes responsibilities and increasing complexities. The regulatory requirements, the myriad of agencies and organizations, and the physical environment itself change constantly.
The Clean Power Plan is just one such example of the ways in which the industry is changing, and why a deep and contemporary understanding of energy law has become so critical.
To address the distinct needs of energy and natural resource professionals, as well as practicing attorneys and scholars with interest in energy law, The University of Tulsa College of Law offers a cutting-edge online graduate degree program, the Master of Jurisprudence in Energy Law (MJEL).
The MJEL delivers unparalleled academic experiences and career results. The MJEL is an immersive, online graduate degree program that accelerates careers. It is available in part-time and full-time formats to students across the country and can be completed in 18–24 months. For those working in or entering into the dynamic field of energy, natural resources, and environmental law, there is no preparation as powerful as the MJEL degree.
Areas of Knowledge
Legal and financial principles that guide energy regulation
Law of natural resources, like water and minerals
Regulation of oil and gas production
Regulation of electric power markets
Regulation of petroleum transmission
Regulation of renewable energy resources
Environmental permitting
Legal writing and advanced legal research
Who Chooses MJEL
Emerging professionals seeking an exciting, in-demand career. Approximately 30% of MJEL students have just recently completed their undergraduate studies and are looking to develop new knowledge, skills, and connections in the field of energy management.
Practicing lawyers whose careers necessitate their investment in an energy law degree. Lawyers choose the MJEL program because their interests have expanded since they first went into practice. The MJEL is an academic Master's degree program that allows these legal practitioners to become deep experts in a new area.
Mid-career energy professionals who want to shift gears and get into management. Nearly half of MJEL students are professionals who are actively working in the energy and natural resources industry. They are landmen, analysts, and managers. They want to earn a management or executive-level promotion into leadership positions, or to expand their consulting practices. This program allows them to make huge leaps forward in terms of career advancement. As the world of energy continues to change, many oil/gas experts will transition their area of focus to renewable forms of energy. The MJEL degree will offer new opportunities for students to shift or sharpen their skills for enhanced career security.
Scholars. The information and insights offered in the MJEL program are unique and valuable. In fact, the MJEL is the only online graduate degree program that gives its professional students access to courses like Energy & Indian Land Title. That's why instructors and professors from colleges and universities across the country are choosing to expand their knowledge through the MJEL program.
Introducing Tim Thompson, Assistant Dean of Online Legal Education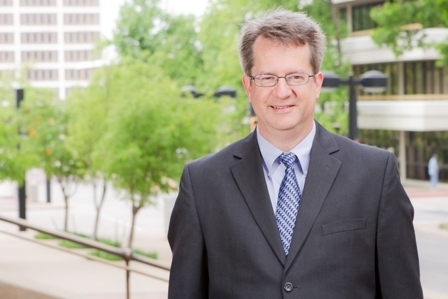 Tim Thompson is joining The University of Tulsa College of Law as Assistant Dean of Online Legal Education. With extensive legal and professional experience, Thompson joins TU Law having served as staff attorney for Southern Star Central Gas Pipeline, associate general counsel for Southern Illinois University and of counsel with both GableGotwals and Carroll & Ward. Thompson has also taught as an adjunct professor for TU's Collins College of Business.
"Tim brings us a great deal of experience in the legal profession as well as in the field of higher education and online programming. He will be a great addition to the College of Law's Master of Jurisprudence programs," said TU Law Dean Lyn Entzeroth.
University of Tulsa Online Master of Jurisprudence in Energy Law Students
The University of Tulsa College of Law
Phone: +1-918-631-2408
Email: mj-admissions@utulsa.edu

Address
3120 East 4th Place
Tulsa, Oklahoma, USA 74104

Website: https://law.utulsa.edu/
---