Saudi Aramco
Saudi Arabia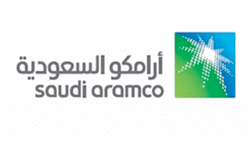 ---
Aramco energizes the world economy.

Aramco occupies a unique position in the global energy industry. We are the world's largest producer of hydrocarbons (oil and gas), with the lowest upstream carbon intensity of any major producer.

With our significant investment in technology and infrastructure, we strive to maximize the value of the energy we produce for the world along with a commitment to enhance Aramco's value to society.

Headquartered in the Kingdom of Saudi Arabia, and with offices around the world, we combine market discipline with a generations' spanning view of the future, born of our nine decades experience as responsible stewards of the Kingdom's vast hydrocarbon resources. This responsibility has driven us to deliver significant societal and economic benefits to not just the Kingdom, but also to a vast number of communities, economies, and countries that rely on the vital and reliable energy that we supply.

We are one of the most profitable companies in the world, as well as amongst the top five global companies by market capitalization.

Overview

Aramco is currently developing the production, shipping and marketing of low carbon hydrogen and ammonia as an alternative route-to-market for our oil and gas resources. The Low Carbon Hydrogen Business Development Analyst will have the responsibility to perform activities related to sourcing, screening, analyzing, planning, and developing new business ventures related to Saudi Aramco's Low Carbon Hydrogen (LCF).

Key Responsibilities
Conducts business development activities encompassing: creating and developing partnerships along the value chain; developing business proposals, identifying suitable partnership strategy and business models to maximize value creation for Aramco.
Performs business development processes from screening, early engagements, studies, negotiation, and other required activities to progress proposals through stage gates all the way to deal closure.
Implements the active sourcing of new business ideas and proposals by expanding a network of partners (industry, government affiliated institutions, and others).
Prioritizes business proposals against investment criteria and Aramco's Hydrogen strategy, and determines the scope and objectives of prospective deals by offering commercial and technical solutions.
Builds and continuously improves strong relationships with prospective partners, and continuously reviews and recommends changes to develop potential business proposals.
Participates in the process of commercial negotiation with prospective partners while contributing key technical and commercial insights.
Acts as a deal closer, proactively mobilizing various stakeholders (including senior management) to resolve pending issues before major commitment points are reached, including final contract negotiations.
Contributes to a performance management process to measure success against set strategy and objectives.
Represents Saudi Aramco in professional societies, standard committees and conferences.
Prepares, reviews and presents Management Committee briefs and presentations.

Minimum Requirements
Bachelor's degree in Chemical Engineering, Mechanical Engineering, Material Science, Business, or Economics. MBA or a relevant advanced degree is strongly preferred.
Minimum of 12 years of experience in business development, strategic consulting, investment banking, corporate development, corporate finance, business operations, or related activities in the hydrogen, petrochemical, oil and gas, LNG, or power sectors.
Proven track record of successfully developing strategies and vision to develop an emerging business within a large well-established organization.
Strong business development and partnership development experience; including: establishing anchor projects with key partners; and bringing companies together as co-investors in a large project investment.
Excellent understanding of financial analysis and valuation methodologies, commercial principals and mechanisms related to a transaction, and various types of commercial transactions.
Experience in navigating and influencing complex internal stakeholder groups to ensure successful business outcomes.
Experience in international business and cross-cultural professional practices.

Certificates

Working environment

Our high-performing employees are drawn by the challenging and rewarding professional, technical and industrial opportunities we offer, and are remunerated accordingly.

At Aramco, our people work on truly world-scale projects, supported by investment in capital and technology that is second to none. And because, as a global energy company, we are faced with addressing some of the world's biggest technical, logistical and environmental challenges, we invest heavily in talent development.

We have a proud history of educating and training our workforce over many decades. Employees at all levels are encouraged to improve their sector-specific knowledge and competencies through our workforce development programs - one of the largest in the world.