Saudi Aramco
Saudi Arabia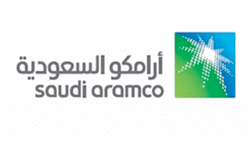 ---
Aramco energizes the world economy.

Aramco occupies a unique position in the global energy industry. We are the world's largest producer of hydrocarbons (oil and gas), with the lowest upstream carbon intensity of any major producer.

With our significant investment in technology and infrastructure, we strive to maximize the value of the energy we produce for the world along with a commitment to enhance Aramco's value to society.

Headquartered in the Kingdom of Saudi Arabia, and with offices around the world, we combine market discipline with a generations' spanning view of the future, born of our nine decades experience as responsible stewards of the Kingdom's vast hydrocarbon resources. This responsibility has driven us to deliver significant societal and economic benefits to not just the Kingdom, but also to a vast number of communities, economies, and countries that rely on the vital and reliable energy that we supply.

We are one of the most profitable companies in the world, as well as amongst the top five global companies by market capitalization.

Overview

The Downstream Business Development Department ("DBDD") implements Downstream growth strategy through the development of profitable investments, mergers and acquisitions (M&A), and joint ventures including securing long-term placement of crude oil in facilities with substantial conversion of liquid feeds to chemicals, while providing opportunities for product marketing and technology licensing. DBDD identifies, evaluates, screens, reviews and recommends global business development opportunities such as mega JV greenfield and brownfield projects, mergers and acquisitions in line with the Downstream strategy and in coordination with other Downstream business line.

Engineer Professional is responsible for evaluating technical designs of the potential opportunities for both refined and petrochemical plants and analyze product portfolio against the company portfolio. Engineer Professional will be able to verify and analyze Liner Programming model outcomes. Engineer Professional assists business development technical team to determine if the proposed configuration strategically fit the company strategy and to advise based on market intelligence to prepare Deal parameters. In addition, the Engineer Professional is responsible to establish the technical due diligence scope of work and to ensure that is done according to companies' General instruction. Also, he is responsible to lead the technical team in the execution of technical scope and be aware of the Supply and demand of the future refined products and petrochemical and identify the market fundamental. In addition to plan and support implementation of effective projects and transaction delivery including evaluation, structuring and negotiating all projects and deals relating to growth opportunities in refining, petrochemicals, trading, retail and lubricants segments.

Key Responsibilities
Recommend the scope, objectives and key contract deliverable for technical due diligence.
Coordinate with internal subject matter experts' groups in Strategy & Market Analysis, to ensure marketing studies are supporting deal progress.
Lead Marketing development activities encompassing: creating and developing partnerships along the downstream value chain; developing business proposals, identifying suitable partnership strategy and business models to maximize value creation for Aramco.
Formulate a design configuration dynamic and present it to DBDD management or stakeholders.
Produce margin improvement opportunities in current refining and chemicals assets with Consultants in context with the competitive landscape and market fundamentals and share insights to the management.
Remain fully informed on company procedures and standard, other parties researches and implement best practices.
Supports Business Development Specialist on technical development process from screening through transaction closure, including screening and validation of activities against proposals progress through stage gates, prioritizing business proposals against internal investment criteria and Downstream strategy.
Perform analysis on the scope, objectives and key business principles of the transaction, offering commercial and technical solutions that constitute the Company's business offering.
Day to day coordination with internal subject matter experts' groups (Law, Finance, Strategy & Market Analysis, Technical Services) to ensure deal progress. Works with internal organizations, external advisors and prospective partners to promote new business opportunities under the supervision of Business Development Specialists/Consultants.

Minimum Requirements
Bachelor's degree in Engineering (Chemical preferable, or other disciplines).
Professional Certifications (preferred): Project Management Professional (PMP), Certified Financial Analyst (CFA) and Certified Management Accountant (CMA).
At least 9 years of professional experience in business development, with a strong track record of economic and commercial evaluations for major refining and chemicals projects, and a deep understanding of associated operations and integration of assets.
Proven track record of successfully developing strategies and vision to develop an emerging business within a large well-established organization.
Possess excellent analytical and numerical skills and are deeply creative with great problem-solving skills.
Strong business development and partnership development experience, including: establishing anchor projects with key partners, and bringing companies together as co-investors in a large project investment.
Moderate understanding of financial analysis and valuation methodologies, commercial principals and mechanisms related to a transaction, and various types of commercial transactions.

Certificates

Title : Fundamental of Engineers (FE)
Req./Pref. : Preferred

Working environment

Our high-performing employees are drawn by the challenging and rewarding professional, technical and industrial opportunities we offer, and are remunerated accordingly.

At Aramco, our people work on truly world-scale projects, supported by investment in capital and technology that is second to none. And because, as a global energy company, we are faced with addressing some of the world's biggest technical, logistical and environmental challenges, we invest heavily in talent development.

We have a proud history of educating and training our workforce over many decades. Employees at all levels are encouraged to improve their sector-specific knowledge and competencies through our workforce development programs - one of the largest in the world.