Saudi Aramco
Saudi Arabia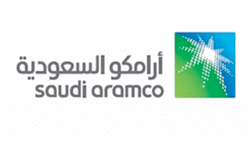 ---
Aramco energizes the world economy.

Aramco occupies a unique position in the global energy industry. We are the world's largest producer of hydrocarbons (oil and gas), with the lowest upstream carbon intensity of any major producer.

With our significant investment in technology and infrastructure, we strive to maximize the value of the energy we produce for the world along with a commitment to enhance Aramco's value to society.

Headquartered in the Kingdom of Saudi Arabia, and with offices around the world, we combine market discipline with a generations' spanning view of the future, born of our nine decades experience as responsible stewards of the Kingdom's vast hydrocarbon resources. This responsibility has driven us to deliver significant societal and economic benefits to not just the Kingdom, but also to a vast number of communities, economies, and countries that rely on the vital and reliable energy that we supply.

We are one of the most profitable companies in the world, as well as amongst the top five global companies by market capitalization.

Overview

We are seeking an experienced professional to join our team in Dhahran, Saudi Arabia to manage the development and implementation of carbon capture and storage (CCS) projects and strategies.

Aramco's Upstream Development Strategy & Reserves Department provides high-level technical support across the full range of hydrocarbon exploration and production activities, including economic optimization of the entire resource portfolio. As part of Aramco's extensive efforts to create a circular carbon economy and achieve net zero emissions by 2050, this team conducts pioneering studies, introduces state-of-the-art technologies, and provides specialized evaluations for CCS projects.

The CCS Engineering Specialist will coordinate and lead advanced techno-economic studies to plan, develop, and implement CCS projects within the Kingdom of Saudi Arabia. This role will work with multidisciplinary engineering teams and provide expert technical insights on CCS related matters.

Key Responsibilities
Coordinate and lead complex techno-economic studies related to the planning, development, and implementation of CCS projects.
Lead the development of company standards and guidelines for CCS projects in Saudi Arabia.
Technical review and qualification of CO2 capture and sequestration technologies.
Support the development of the company's CO2 capture and sequestration strategy/roadmap.
Provide management with up-to-date trends, technologies, and new developments related to the CCS industry.
Train and mentor less-senior team members.

Minimum Requirements
Master's degree in Chemical, Petroleum, or Mechanical Engineering.
Expert understanding of the various stages of CCS processes and related technologies, including, capture processes and technologies (e.g. chemical absorption, physical separation), CO2 transport mechanisms and its economic considerations, CO2 storage mechanisms, and the various uses of CO2.
15 years' related experience, with at least 10 years' exposure to the CCS value chain, including experience in CO2 storage projects and a strong understanding of geological and engineering considerations, as well as the various trapping mechanisms, either in saline formations and/or depleted oil and gas reservoirs.
Familiarity with the various costs across the entire CCS value chain.
Strong understanding of the different policy/regulatory frameworks that have allowed the successful development of global CCS projects.
Good understanding of carbon related policies such as carbon tax, cap-and-trade, carbon pricing, etc.
Comfortable working in a multicultural environment.

Certificates

Data not available

Working environment

Our high-performing employees are drawn by the challenging and rewarding professional, technical and industrial opportunities we offer, and are remunerated accordingly.

At Aramco, our people work on truly world-scale projects, supported by investment in capital and technology that is second to none. And because, as a global energy company, we are faced with addressing some of the world's biggest technical, logistical and environmental challenges, we invest heavily in talent development.

We have a proud history of educating and training our workforce over many decades. Employees at all levels are encouraged to improve their sector-specific knowledge and competencies through our workforce development programs - one of the largest in the world.