Marathon Oil

Featured Employer
Carlsbad, New Mexico, United States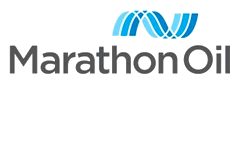 ---
Overview:
Marathon Oil Company is currently seeking an experienced Field Operator. The position will be based in the Carlsbad, NM field office. The Field Operator position is responsible for managing a large well count with various types of artificial lift and one or more production facilities. The position involves optimizing well and facility systems to maximize production reliability while being a safety leader and an environmental steward.
Responsibilities:
Monitor and operate wells and associated surface equipment, including pumps, natural gas compressors, pumping units, valves, tanks, and other vessels, and maintain a safe work environment for the company.Operate and maintain facilities. Verify levels in heater treater, low pressure and high pressure separators, dehy contact tower, dehy reboiler, ultra fab units, spent chemical scrubber, ultra fab step down tower, low pressure and high pressure flare scrubbers, compressor suction scrubbers
Operate and maintain well pads - Flowing, gas lift and pumping wells, ensure three-phase test skids and pumping units are in proper working order. Check all dumps (pneumatic or mechanical) to see if they are in proper working order or repair if needed.
Ability to troubleshoot issues with surface production equipment, artificial lift, and well performance.
Inspect equipment for safety problems, leaks, or wear and tear and makes or recommends appropriate repairs.
Experience with production surveillance SCADA software. Input daily production and data into eVIN.
Ability to prioritize day to day workload, including LOTO, maintenance, construction and workover activities.
Check all locks and seals per schedule
Complete TIER 1 audits in a timely manner
Exhibit leadership ability in driving MRO Health Environmental & Safety culture by adhering to all company safety policies and procedures. Follow all SPCC rules and regulations. Maintain good housekeeping practices.
Minimum Requirements:
High School Diploma or equivalent
Two or more years in the oil & gas industry preferred
Proficient with Microsoft Office products and general computer operations skills required.
Ability to handle and prioritize multiple tasks at one time is required
Must possess excellent communication, teamwork, planning, and organizing skills
Must possess a valid state-issued driver's license.
Marathon Oil Corporation (NYSE: MRO) is an independent oil and natural gas exploration and production company based in Houston, Texas. With a material position in four of the best oil-rich U.S. resource plays in different stages of development, we offer a variety of career opportunities, whether you're a recent college graduate or an experienced professional. You'll have the tools to develop and refine the skills and knowledge you need to succeed.
Marathon Oil Company will take the necessary action to ensure that applicants are treated without regard to their race, color, religion, sex, age, disability, national origin, sexual orientation, genetic information, veteran status or other protected status under applicable employment law.
If you are a current Marathon employee please use the ERP website to submit referrals.
Posting Notes: || Carlsbad || NM || United States (US) || Not Applicable; SF:DI; SF:GH; SF:LI; SF:MN; SF:RZ || Field and Drilling Operations || Not Applicable || || 29998 ||
Marathon Oil – Where You Can Make A Difference
Marathon Oil became an independent E&P company on July 1, 2011. Based in Houston, we're focused on the most significant oil-rich resource plays in the U.S. -- the Eagle Ford in Texas, Permian in New Mexico, STACK and SCOOP in Oklahoma, and the Bakken in North Dakota. We also have international operations in Europe and Africa. While we feel like a start-up in many ways, our roots go back 130 years to our company's formation in 1887. Our stock trades on the New York Stock Exchange under the ticker symbol MRO.
We're on a transformative path, with a variety of exceptional opportunities for people who are up to the challenge. If that's you – if you're seeking a challenge and ready to make a difference – you could be the right fit to help drive our future. Our U.S. exploration and development assets offer energy professionals exposure to projects from early-stage evaluation through production. Our producing international assets provide a broader perspective on the world's energy challenges.
We have more than just opportunity to offer. We're invested in equipping our people for an entire career – from advancing technical skills through to developing the leadership behaviors and skills that will take our business forward. Our competitive compensation and benefits package goes beyond the basics to include a wellness program, self-funded (with company match) and company-funded retirement plans, flexible hours in some positions and tuition reimbursement. Grow your career with us.