Acadian Contractors Inc
Cow Island, Louisiana, United States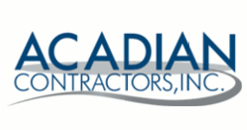 Company: Acadian Contractors Inc
Skills: Fitter / Turner
Experience: 2 + Years
Education: High School/Secondary
Employment Type: Full Time Salaried Employee
Location: Cow Island, Louisiana, United States
No location/work authorization restrictions found.
---
Acadian Contractors, Inc. continues to grow!
ABOUT US
Acadian Contractors is located in Abbeville, Louisiana on the Vermillion River. We opened our doors in 1973 and have grown to become one of the busiest, most in-demand, accurate and stable companies in the industry. Even so - most people have still never heard of us. Why do we remain one of the best kept secrets in oilfield construction? That's simple... If you don't make mistakes... you don't make headlines.
We pride ourselves on treating all of our employees with respect, rewarding those who live up to expectations and providing the safest workplace and the highest standards when it comes to tools, technology and equipment. Our team works in over 100,000 square feet of fabrication shops located on 125 acres of yard on both sides of the Vermillion River with 2 water access slips, all just minutes from the Gulf of Mexico. This allows us to do big, long-term jobs with ease and accuracy.
GREAT BENEFITS!
Health Insurance - Established 401k - Cafeteria Plan - Paid Vacation - Sick Leave - Short & Long Term Disability - Safety Incentive Program
SECOND TO NONE SAFETY RECORD
Our commitment to safety is passionate and not just lip service to make a press release sound pretty...
An example of Acadian's safety record is the recent Chevron Safety Award for 455,000 straight work hours without an OSHA recordable incident.
Safety is a Top Priority at Acadian Contractors, Inc.
.
OPPORTUNITY FOR ADVANCEMENT
Promote from within policy. Average Acadian employee tenure: 18 years.
We are currently looking for the following individual who can meet the following criteria:
Deliver a high quality, consistent and competent piping/structural construction service in accordance with project company requirements, standards and procedures.
To ensure that all work scope is completed in a safe manner ensuring no detrimental impact to personnel or equipment.
Readily understands and implements all applicable company/project policies working practices and procedures, ensuring that all piping/structural assembly work scope is completed safely and to a high standard.
Complete all work scope in accordance with applicable instructions, associated procedures and drawing / sketches.
Provide support to other trades and disciplines where required, or form part of and integrated multi-discipline team.
Understand appropriate Risk Assessments in order to complete work scope in a safe and controlled manner.
Ability to communicate effectively with team members.
Demonstrate commitment to working safely at all times.
Flexible - Able to comply with company and client requirements.
Confident and with an ability to work unsupervised and work on own initiative.
Has a desire to learn and develop within the role.
Can demonstrate a high standard in completion of tasks associated with pipe / structural fitter as defined in job specifications.
Pass all necessary written and hands on ability testing as needed to establish experience and skill level.
Can demonstrate the ability to read, understand and implement procedures, specification drawings, sketches, etc.
Lays out positions, aligns and fits components together in various positions.
Will assist with setting up equipment and staging materials on first day of job scope.
Will be responsible for setting up bottle racks.
Will inspect gauges and hoses on daily basis and repair if necessary.
Will be responsible for the preparation of all materials for fabrication.
Shall make sure there is an ample supply of fitting supplies, (acetylene, oxygen, tips, etc.).
Confirm all measurements prior to fabrication.