Acadian Contractors Inc
Cow Island, Louisiana, United States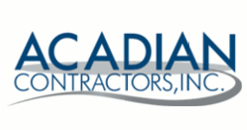 Company: Acadian Contractors Inc
Skills: Fitter / Turner, Welding
Experience: 2 + Years
Education: High School/Secondary
Employment Type: Full Time Salaried Employee
Location: Cow Island, Louisiana, United States
No location/work authorization restrictions found.
---
Acadian Contractors is located in Abbeville, Louisiana on the Vermillion River. We opened our doors in 1973 and have grown to become one of the busiest, most in-demand, accurate and stable companies in the industry. Even so - most people have still never heard of us. Why do we remain one of the best kept secrets in oilfield construction? That's simple... If you don't make mistakes... you don't make headlines. We pride ourselves on treating all of our employees with respect, rewarding those who live up to expectations and providing the safest workplace and the highest standards when it comes to tools, technology and equipment. Our team works in over 100,000 square feet of fabrication shops located on 125 acres of yard on both sides of the Vermillion River with 2 water access slips, all just minutes from the Gulf of Mexico. This allows us to do big, long-term jobs with ease and accuracy.
We are currently in search of experienced and qualified welders for offshore work.
In order to apply:
MUST HAVE EXPERIENCE WELDING STICK/FLUXCORE
Required to pass employer performance tests or standards to meet certification standards and meet requirements of welding procedures on job specific tasks.
Responsible for observing and complying with all safety and project rules, including all safety required personal equipment.
Provide expert guidance to Superintendent in reference to welding guidelines and procedures to increase job performance and ensure all requirements are met.
Functions as a team player and assist the crew as necessary in completion of any additional task or duties needed to complete job.
Lays out, positions, aligns and fits components together of products such as piping systems plate, pipe or structural shapes.
Bolts, clamps and welds together metal components together of products such as piping systems, plate, pipe or structural shapes.
Loads, transports and unloads material, tools, equipment and supplies, and prepare and perform functions check and inspections prior to using equipment and material.
Perform minor maintenance or cleaning of tools and equipment.
Responsible for all assigned tools are serviceable and accounted for at completion of task / job.
Selects equipment and plans layout, assembly, and welding procedures to complete welding procedures to complete tasks.
Selects type and size of pipe or other related materials and equipment according to specifications.
Can work independently or work with others as part of a team.
Compare and see differences in the size, shape and form of lines, figures and objects.
Visualize objects in three dimensions from plans and drawings and apply concepts to material needed to complete job requirement.
Plan work and use proper tools needed to complete task assigned.
Apply basic mathematics to solve problems.
Make decisions based on measureable criteria.
Work within precise limits or standards of accuracy.
Will assist with setting up equipment and staging materials on job location.
Will conduct equipment readiness checks to ensure all welding equipment has sufficient fluid levels to include fuel and oil products on a daily basis.
Will inspect all leads and assure that all ground wires are properly attached and that drain plugs are installed.
Will ensure that all ESD on welding machines are in working conditions.
Will assist fitter as needed to completed job tasks.
Weld materials as needed to compete job scope and as directed by Construction Superintendent.
Assist with installation of materials if there is a lack of manpower.
Assure that welding leads, ground wires and rheostats are secured to machines prior to demobilization of job is complete.
Report all damages and missing parts on welding machines to his or her immediate supervisor.
Ensure that all personal training is up to date and valid for operation on job locations to include all trade and offshore requirements.
Listing of personal required Tools:
1.(1) Welding Hood
2.Pair of Gloves
3.Whip
4.Needle Nose Pliers
5.Small Grinder with handle AND guard
6.Hammer
7.Chisel