WTI Nears the $55 Mark
by Matthew V. Veazey
|
Rigzone Staff
|
Wednesday, January 30, 2019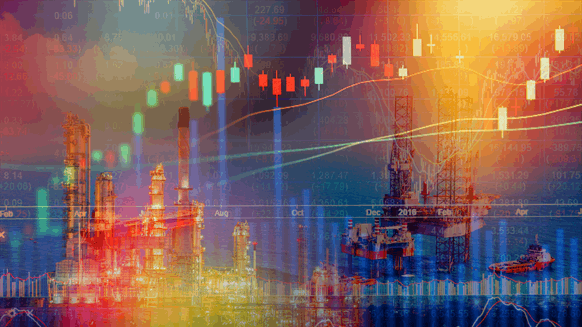 WTI gained 92 cents during the midweek session while Brent posted a more modest increase.
West Texas Intermediate (WTI) crude oil for March delivery gained 92 cents Wednesday, settling at $54.23 per barrel. The U.S. benchmark peaked at $54.93 and bottomed out at $53.09 during the midweek session.
"The daily chart for March crude still shows the market has been trading within a sideways consolidation pattern bordered by the 4980 and 5534 levels," said Steve Murphy, vice president with Rockville Centre, N.Y.-based Rafferty Commodities Group. "Last week we had stated that we would wait patiently to buy the market toward the lower end of the range at the 4980 level, but the market never traded down far enough."
Murphy pointed out that a similar situation exists on the upside.
"On the upside, the market has not traded close enough to 5534 for us to take action either selling against resistance or buying a breakout, on a closing basis, above the 5534 level," Murphy continued. "While we favor the upside for an eventual breakout, we will wait patiently for the opportunity to trade the market against our support and resistance levels."
March Brent crude oil futures settled at $61.65 per barrel, reflecting a 33-cent increase for Wednesday.
Reformulated gasoline (RBOB) also ended the day positive. The February RBOB contract gained 3 cents to settle at $1.38 per gallon.
Unlike the above benchmarks, Henry Hub natural gas futures fell on Wednesday. The March contract price shed 5 cents, ending the day at $2.85.
"As we move to the March natural gas futures contract being the spot month, the market continues to flirt with the major support levels that we have been discussing since last week," Steve Blair, vice president and principal with Rafferty Commodities Group, said.
Blair pointed out that the Henry Hub price action for Jan. 29, 2019, exhibited an intra-day penetration of the uptrend line on the daily continuation chart before closing back above the line at $2.903.
"Today the uptrend line lies at the $2.872 level," noted Blair. "The low of $2.802 in March that occurred early in yesterday's trading session approached the next major support at the $2.771 level as seen on the daily chart."
The above support level has been tested "numerous times going back to early January and into the first week of February," Blair added.
"We again look to buy against these levels until the market closes below them," concluded Blair. "For long hedgers these levels are good opportunities to place some hedges."
Generated by readers, the comments included herein do not reflect the views and opinions of Rigzone. All comments are subject to editorial review. Off-topic, inappropriate or insulting comments will be removed.