Women in Oil, Gas: BP's Aleida Rios Advocates for Diversity and Inclusion
|
Thursday, March 08, 2018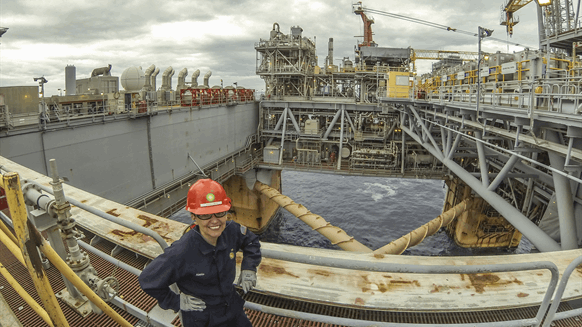 Aleida Rios shares how she grew from an immigrant who struggled with a language barrier in school to become the woman accountable for all of BP's offshore Gulf of Mexico operations.
Rigzone: How do you advocate for diversity and inclusion in the workplace?
Rios: Diversity and inclusion has always been a passion of mine simply because of my upbringing – without it, I wouldn't be where I am today. Growing up, in my Mexican culture, there wasn't a great expectation that women would go off to work in the oilfield. I currently sit on BP's global executive women's council and I head up the company's supplier diversity council. I'm the lead for the Gulf of Mexico's women leadership council and a member of BP's leadership council for the Million Women Mentors program. The "why" of me being here is really because of STEM education for underrepresented groups – minorities, women – and the advocacy around access to education in STEM.
Rigzone: What's the biggest challenge you've faced in your career?
Rios: My biggest career challenge has been managing work-life balance given that I and my husband both work. We have three sons and I have received amazing support at home from my husband and children and at work from my mentors and line managers. Another challenge was overcoming cultural norms – it's difficult to overcome not having many role models in the industry. However, when I developed a love for the work, that kept me committed to working hard and overcoming any barriers.
Rigzone: What's the most defining moment of your career?
Rios: When I was eight months pregnant with my second child, I was offered a site operations manager position. I remember thinking 'can I do this? Do I want to do this?' I accepted it because of the confidence I got in the support from my line manager who made me the offer and my mentors who encouraged me to take the role. I have a lot of respect for the person who offered me the position. He pushed me hard to be brave and bold and go for it. My husband did the same thing. I'm so glad I was encouraged to be braver than I thought I could be.
Rigzone: Why is diversity important in this industry?
Rios: I believe the only way to achieve the best results is to ensure we have the best talent and can get the most out of everyone in the organization. The data does not lie. Diversity in teams creates better performing teams. We need that type of talent to solve some of the most difficult problems we're facing in energy. Diversity and inclusion are both critical to our success. People who feel included have a sense of belonging – this generates a great thing for the team and the business.
Rigzone: What's the best career advice you've been given?
Rios: I was considering a job but was a bit afraid of the work. I thought it would be too hard or difficult. I remember my mentor saying, 'Aleida, regardless of what job you have, you're going to work hard at it. So just go ahead and take it.' My father used to tell me the same thing. He said, 'if they tell you to wash windows, be the best window washer there is.' What I took from that is don't be afraid of the hard work. The results will be there because of the quality of your work.
1
2
View Full Article
Generated by readers, the comments included herein do not reflect the views and opinions of Rigzone. All comments are subject to editorial review. Off-topic, inappropriate or insulting comments will be removed.