Women in Oil, Gas: BP's Aleida Rios Advocates for Diversity and Inclusion
|
Thursday, March 08, 2018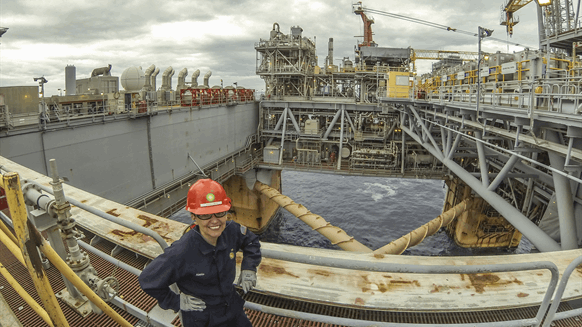 Aleida Rios shares how she grew from an immigrant who struggled with a language barrier in school to become the woman accountable for all of BP's offshore Gulf of Mexico operations.
As people all over the world celebrate women today on International Women's Day, Aleida Rios, VP of Operations in the Gulf of Mexico for BP plc, holds tight to her mission of advocating for women every day.
She's a walking example of what hard work and the right opportunities can do for your career.
Aleida Rios
VP of Operations in the Gulf of Mexico, BP
Rios immigrated from Mexico with her parents at age 8 so that she and her siblings could be exposed to more educational opportunities.
"We came from a very small rural town in Mexico and my parents only had an elementary education," Rios told Rigzone. "I remember coming [to Houston] and being very frustrated because I was a good student but did not know English."
Rios was, however, very good at math.
"I didn't have to know English to add, subtract and multiply," she said. "I called it my universal language."
Rios and her family lived in a low-income part of Houston and through magnet programs, she was able to attend schools with better educational support; it was there she was steered toward math and science by her teachers and mentors.
She was part of a STEM honors program in high school and awarded the opportunity to work at a Shell refinery – a better well-paying job than the retail clerk position she held.
That led her to pursue an engineering degree at Texas A&M University. Rios had an internship with BP for four summers during her college years and it was then that she first became interested in the oil and gas industry.
"I went to West Texas … that's when I really fell in love with field operations," she said.
Rios graduated from Texas A&M with her bachelor's degree in Chemical Engineering and after a fourth year of interning with BP, she came back and spent her early career in the field learning the business and operations as a plant engineer.
Today, Rios serves as the vice president of operations for BP's Gulf of Mexico platforms.
She shares with Rigzone how she advocates for others like herself in the industry and how she's been successful in her career.
1
2
View Full Article
Generated by readers, the comments included herein do not reflect the views and opinions of Rigzone. All comments are subject to editorial review. Off-topic, inappropriate or insulting comments will be removed.