WTI Clears $58
by Matthew V. Veazey
|
Rigzone Staff
|
Wednesday, March 13, 2019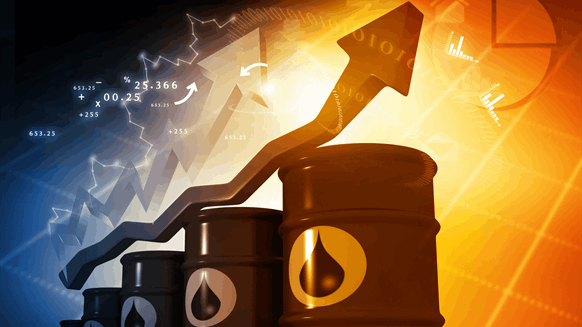 The WTI stayed north of $58 Wednesday.
West Texas Intermediate (WTI) crude oil rose by more than $1 Wednesday, with Brent futures showing a relatively modest gain.
The April WTI contract price gained $1.39 during midweek trading to settle at $58.26 per barrel. The benchmark peaked at $58.48 and bottomed out at $57.01.
Brent crude oil for May delivery also finished higher Wednesday, adding 88 cents to settle at $67.55 per barrel.
As this Bloomberg article posted to Rigzone earlier Wednesday notes, crude oil received a boost from an American Petroleum Institute (API) report showing an unexpected decline in U.S. inventories. Meanwhile, the U.S. Energy Information Administration (EIA) reported Wednesday that domestic commercial crude stocks for the week ending March 8, 2019, stood at 449.1 million barrels – down approximately 0.9 percent from the previous week but up 4.2 percent year-on-year.
EIA also revised its crude oil price forecast slightly upward for 2019 and 2020. The agency now projects that the Brent price will average $63 per barrel this year and $62 per barrel next year. In addition, it anticipates that the WTI will average $54 per barrel during the first half of 2019 but that the $9 WTI-Brent spread will tighten. In the fourth quarter of this year, EIA foresees the average WTI price increasing to $58 and remaining at that level throughout 2020. EIA attributed the revision to "tighter forecast balances and higher than expected prices during February."
Like crude oil, reformulated gasoline (RBOB) futures showed positive momentum Wednesday. The April RBOB contract price settled at $1.86 per barrel, reflecting a four-cent day-on-day gain.
The Henry Hub natural gas benchmark also added four cents Wednesday. April gas futures ended the day at $2.82.
Generated by readers, the comments included herein do not reflect the views and opinions of Rigzone. All comments are subject to editorial review. Off-topic, inappropriate or insulting comments will be removed.