West Texas Sand Currently Bringing in Billions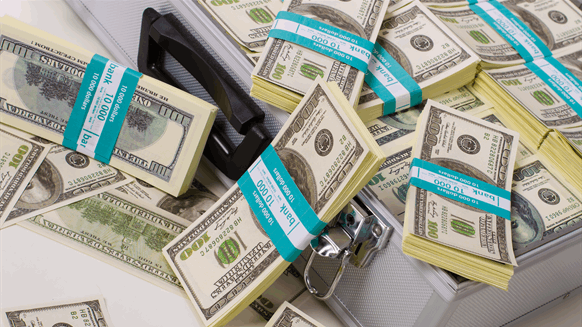 There is perhaps no industry that better captures the money-multiplying effect of the Permian boom.
Backed by a private-equity firm named Natural Gas Partners, Black Mountain is the biggest outfit in the area. It runs two mines nestled up against a desolate strip of highway that stretches into unincorporated parts of Texas along the border with New Mexico. They're called Vest and El Dorado. Both are just months old. And both are already cranking out sand at a pace equal to 5 million tons a year.
It takes an army of trucks to haul that much sand to well sites. And they need to get in and out of the mines efficiently. Allen's target is eight minutes or less. An automated system that knows which sand to feed each truck speeds the process along. Still, they come in so fast that the line can back up quickly. On a recent afternoon, it was several deep. Sergio Pando, a load-out operator, says that's nothing. On a really hectic day, it can swell to 100.
'Gold Rush'
Like most everyone else here, Pando was lured to the sand mines by the prospect of big pay. Even unskilled newbies can pull down $19 an hour, almost triple the state's $7.25-per-hour minimum wage. A student at Texas Tech University, Pando took off the spring semester to start working at Black Mountain. Six months into the job, he's making $28 an hour.
"You have this flood of people and resources and capital going into this small,condensed area," says Allen, who himself was recruited away from Rio Tinto's U.S. mining operation. "It's like a gold rush."
This gold rush metaphor comes up again and again in conversations here. Or gold mine. That one is popular too. Fulton, the Hi-Crush CFO, says it's apt for the situation because, just like the speculators of old, people are trying to snap up land now before the actual mining companies arrive.
"They're trying to just find something, quickly flip it and make some quick cash," Fulton says. "They really don't have the intention of staying and working in the sand industry."
But as Edwards, the mine manager, stood atop that sand dune later that day and took in the sight of all of those rival silos dotting the horizon, he was struck by something very different. And while he didn't betray any concern when he said it, there's a cautionary, almost foreboding, note to the observation: "We knew there were people talking about it. We didn't know how many would go through with it."
To contact the reporter on this story: David Wethe in Houston at dwethe@bloomberg.net. To contact the editors responsible for this story: David Papadopoulos at papadopoulos@bloomberg.net; Reg Gale at rgale5@bloomberg.net.
1
2
View Full Article
Generated by readers, the comments included herein do not reflect the views and opinions of Rigzone. All comments are subject to editorial review. Off-topic, inappropriate or insulting comments will be removed.