Venezuela's Oil-linked Cryptocurrency Leaves Heads Spinning
by Bloomberg
|
Andrew Rosati & Fabiola Zerpa
|
Tuesday, August 21, 2018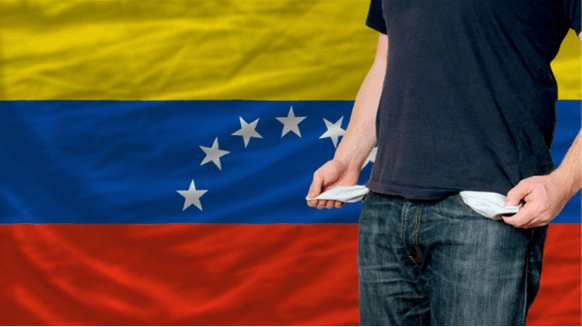 Beaten-down Venezuela on Tuesday began confronting a 95 percent currency devaluation and a regimen of economic controls that, after years of hunger and hyperinflation, landed like a hassle rather than a cataclysm.
(Bloomberg) -- Beaten-down Venezuela on Tuesday began confronting a 95 percent currency devaluation and a regimen of economic controls that, after years of hunger and hyperinflation, landed like a hassle rather than a cataclysm.
Caracas returned to work after a holiday weekend that saw President Nicolas Maduro announce the devaluation and a minimum wage hike of more than 3,000 percent, decisions that were a tacit acceptance of the ubiquitous black-market exchange rate. They accompanied the roll-out of new banknotes that dropped five zeroes to recognize how inflation had made the old money virtually meaningless. Many Venezuelans waited outside banks to get their hands on the new sovereign bolivares after months of living almost cashless.
Jimmy Lugo, 39, a heavy-machine operator, said as he waited to use an ATM downtown that he was paying much as 500 percent markups for legal tender, on which he depends for bus fare. While he doubted the latest economic package would put more food on his table, he hoped it would at least bring temporary relief as the autocratic Maduro is unlikely to leave power on his own.
"This is the only ship there is. Either it floats, or we're all going down," Lugo said after collecting his cash.
Yet many fear the reforms will sink a foundering nation still deeper. Inflation is running over 100,000 percent, food and medicine are scarce and citizens are are fleeing by the thousands to neighboring countries. Some have been met with violence.
The Maduro regime is taking measures to quell a rising sense of panic in the nation. The minimum wage will increase more than 3,000 percent. Regulated prices for 50 staples will be announced Tuesday, and the government has begun to pay a "reconversion bonus" to help holders of the official "Fatherland" identification card make ends meet during the transition.
The sovereign bolivar's value will be linked to a cryptocurrency -- believed to be the first time a government has tried such a thing. The Petro is backed by crude oil, and the government sets its value at $60, or 3,600 sovereign bolivars. The Petro will fluctuate and be used to set prices for goods. Still, the cryptocurrency doesn't trade on any functioning market, Francisco Rodriguez, chief economist of Torino Capital, wrote in a note to clients Monday.
Opposition politicians and unions called a strike for Tuesday, saying the devaluation would deepen suffering. Much of Caracas was working, however, with traffic flowing and many bakeries and supermarkets opened after days shuttered. Still, citizens were befuddled by the head-spinning math of the devaluation, the new currency and the very idea of a bolivar tied to the vaporous Petro.
"They're going to pay us in cryptocurrency now -- Petros? It's crazy. I have no idea how it will work. We're barely using bolivars at this point," said Jose Bastida, a 58-year-old maintenance worker waiting outside a bank in central Caracas.
Maduro's plan was "marked by inconsistencies and was short on specifics, suggesting that any attempt to stabilize the economy would start out facing huge credibility problems," Rodriguez from Torino Capital wrote.
Private firms are "in serious risk of bankruptcy due to the way in which the measures are being implemented," Fedecamaras, the nation's main business chamber, said in a statement Monday. The president's announcements foster "uncertainty, are improvised and undebated and are not being correctly communicated."
Death Drones
Maduro's gambit follows years of policies that turned what had once been one of Latin America's wealthiest countries into a basket case. Pressure is mounting, with new calls for the socialist's overthrow five years after he succeeded the late Hugo Chavez. This month, Maduro cracked down anew on his opponents after an attempt to kill him using aerial drones laden with explosives.
The announcement of the measures on a Friday night was a historical rhyme for many Venezuelans. In 1983, President Luis Herrera Campins devalued the bolivar for the first time in 22 years after oil prices crashed. Citizens called the date "Black Friday."
Complex Calculations
Across Caracas on Tuesday, many residents said that they were already beginning to feel a rise in prices despite Maduro's warnings to the private sector.
1
2
View Full Article
Generated by readers, the comments included herein do not reflect the views and opinions of Rigzone. All comments are subject to editorial review. Off-topic, inappropriate or insulting comments will be removed.