US Slaps De Facto Oil Ban on Venezuela
by Bloomberg
|
Saleha Mohsin and Jennifer Epstein
|
Tuesday, January 29, 2019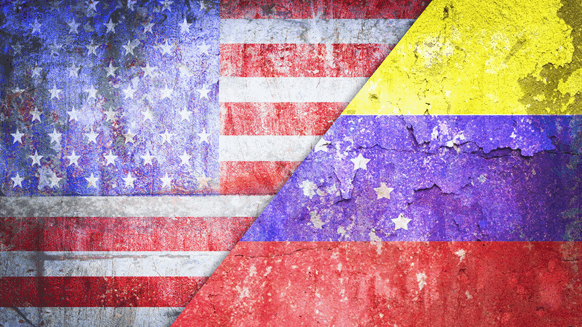 The Trump administration deals its toughest blow yet to the authoritarian Venezuelan leader Nicolas Maduro.
The Florida Republican represents a large Venezuelan expatriate community and is a vocal opponent of the Maduro regime, which the U.S. declared illegitimate last week.
But Senator Bob Menendez of New Jersey, the senior Democrat on the Foreign Relations Committee, said the Trump administration should brief Congress on its moves against Maduro. He praised U.S. efforts to "support the restoration of democracy in Venezuela" but said "there are more questions than answers about the administration's strategy."
The sanctions would be the latest move in Trump's campaign oust the leftist regime of Maduro, who succeeded the late President Hugo Chavez in 2013.
PDVSA has been moving away from dollar-denominated transactions in the past couple of years, since the Trump administration announced financial sanctions in August 2017. The company sells oil to clients in the U.S., Europe and Asia and requires payment in euros, and buys gasoline and diesel for payment in euros as well.
PDVSA also buys fuels via Citgo, owner of three refineries in the U.S. Most of those are barter deals, which means PDVSA gets the fuels and pays the suppliers -- including trading house Vitol SA and Reliance Industries Ltd from India -- in Venezuelan crude.
U.S. officials successfully lobbied the the Bank of England to deny Maduro access to $1.2 billion worth of gold the government holds in London, stymieing the regime's efforts to pull in cash from abroad. The U.K., along with Canada and most Latin American countries, followed the U.S. in recognizing Guaido as the country's legitimate leader.
The Treasury Department also issued licenses on Monday authorizing Chevron Corp., Halliburton Co., Schlumberger Limited, General Electric Co.'s Baker Hughes unit and Weatherford International PLC to continue operations in Venezuela through July 27.
--With assistance from Lucia Kassai, Ethan Bronner, Jose Enrique Arrioja, Jennifer A. Dlouhy, Patricia Laya, Andrew Rosati and Jose Orozco.To contact the reporters on this story: Saleha Mohsin in Washington at smohsin2@bloomberg.net ;Jennifer Epstein in Washington at jepstein32@bloomberg.net To contact the editors responsible for this story: Alex Wayne at awayne3@bloomberg.net Mike Dorning
1
2
View Full Article
Generated by readers, the comments included herein do not reflect the views and opinions of Rigzone. All comments are subject to editorial review. Off-topic, inappropriate or insulting comments will be removed.