US Shields Citgo From Creditors
by Bloomberg
|
Ben Bartenstein
|
Friday, October 25, 2019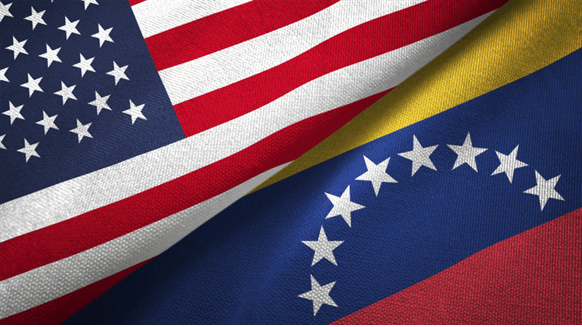 Venezuela's opposition scores a last-minute victory as the Trump administration steps in with a measure to protect the nation's most prized asset abroad from creditors before a key debt payment.
(Bloomberg) -- Venezuela's opposition scored a last-minute victory Thursday as the Trump administration stepped in with a measure to protect the nation's most prized asset abroad from creditors before a key debt payment.
The U.S. Treasury Department updated its sanctions guidelines to temporarily put transactions pertaining to Petroleos de Venezuela's 2020 bonds, backed by 50.1% of Citgo Holding Inc.'s shares, on the same footing as other financial deals that are prohibited. Timing was of the essence: Advisers to National Assembly President Juan Guaido said they lacked the funds to make a $913 million debt payment due Monday.
Washington's decision to block holders of PDVSA's 2020 bonds from seizing their collateral for 90 days followed months of lobbying by Venezuelan opposition leaders. They warned that losing Citgo would be a political catastrophe for Guaido, whom the U.S. and almost 60 other countries recognize as the nation's rightful leader. With the Trump administration's support, Guaido and his allies effectively run Houston-based Citgo, yet have little operational control over its parent PDVSA.
Citgo said in a statement that it's "gratified" by the decision, while Guaido's office said it "welcomes" the move.
"We will continue working in all legal ways to achieve the irrefutable protection of this and all the assets of the Venezuelan people," Guaido's office said. "This amendment from the U.S. Treasury Department recognizes the strategic value of Citgo for the present and future of Venezuela."
Guaido's team also faces a cash crunch. While the U.S. froze accounts linked to Nicolas Maduro's regime, it has refrained from handing them to the Venezuelan opposition out of fear that it would prompt litigation from creditors. Even if that money was available, Guaido would've needed approval from the National Assembly. Last week, the legislature passed an accord calling the PDVSA 2020 bonds unconstitutional because they weren't approved in the first place.
"The Treasury Department is giving a strong signal that it wants creditors and the Guaido administration to reach a refinancing agreement," said Francisco Rodriguez, director of Oil for Venezuela. "What Treasury has essentially done here is grant the Guaido team the 90-day truce they requested."
The PDVSA 2020 bonds rallied Thursday by the most since December 2017 as investors took some relief that the Trump administration left room for a deal in the coming months. The notes now trade at 34 cents on the dollar from about 90 cents in June.
London-based Ashmore Group Plc holds about half of the bonds, according to data compiled by Bloomberg. BlackRock Inc., T Rowe Price Group Inc. and the Royal Bank of Canada are among the other largest reported holders.
Right-wing groups, including Grover Norquist's Americans for Tax Reform, had argued that the Trump administration should refrain from intervening because that would interfere with property rights. But a bipartisan bloc of U.S. senators and representatives including Marco Rubio, Ted Cruz and Lizzie Fletcher urged the president to take action.
They argued that a PDVSA default would open the door for Russia's state oil giant Rosneft to take control of Citgo shares. PDVSA pledged a 49.9% stake in the Houston-based refiner to Rosneft as collateral on a loan in late 2016. Rosneft said earlier this month that it "has no intentions to enter into real ownership and management of the company."
U.S. Treasury Secretary Steven Mnuchin has previously said that, in the event of a PDVSA default, Citgo's loan from Russia would be reviewed by the department's Committee on Foreign Investment in the U.S., which can derail deals on national security concerns.
To contact the reporter on this story:
Ben Bartenstein in New York at bbartenstei3@bloomberg.net
To contact the editors responsible for this story:
Carolina Wilson at cwilson166@bloomberg.net
Alec D.B. McCabe, Robert Jameson
Generated by readers, the comments included herein do not reflect the views and opinions of Rigzone. All comments are subject to editorial review. Off-topic, inappropriate or insulting comments will be removed.