US Refiners Running Hard This Winter Give Oil Demand a Boost
by Bloomberg
|
Barbara Powell & Jessica Summers
|
Thursday, December 21, 2017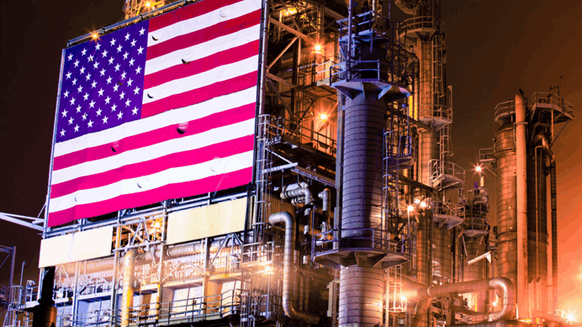 Oil demand may jump in the new year as US refiners plan to take fewer units offline than last winter, freeing them up to churn out more fuel.
(Bloomberg) -- Oil demand may jump in the new year as U.S. refiners plan to take fewer units offline than last winter, freeing them up to churn out more fuel.
Crude unit shutdowns in the first two months of the year are expected to be 35 percent below winter 2017, according to data from Energy Aspects Ltd. March outages are seen falling 55 percent from the prior year, potentially increasing crude demand at a time when U.S. supplies are already at the lowest since October 2015.
"If you have less turnarounds, refiners are going to be demanding more crude, so a lighter turnaround season is supportive for crude prices," Andy Lipow, president of Lipow Oil Associates in Houston, said by telephone.
Refiners that take advantage of a lighter maintenance season to produce more fuel could help extend a crude price rally that has seen WTI futures jump nearly 18 percent since early October. On the other hand, churning out more product at a time when seasonal run rates are at the highest level in at least two decades threatens to weaken profit margins.
Winter turnarounds in 2018 initially looked heftier. Hurricane Harvey hit the Texas Gulf Coast in August, prompting at least 13 refineries from Louisiana to Montana to delay fall maintenance.
While some plants pushed work to the first quarter of 2018, others including Exxon Mobil Corp.'s Joliet refinery near Chicago rescheduled by just a few weeks. Other refiners are pushing work even further out.
"A lot of maintenance got pushed back initially, but some things got pushed back even to 2019," Amrita Sen, chief oil market analyst at Energy Aspects, said.
Upcoming Outages
Phillips 66's Sweeny plant in Texas and HollyFrontier Corp.'s Tulsa West plant in Oklahoma are among those scheduled to shut crude units in the first quarter.
Other maintenance scheduled for the start of next year includes Marathon Petroleum Corp.'s work on the larger of two crude units at its Garyville, Louisiana, plant. Royal Dutch Shell Plc's Deer Park, Texas, refinery plans maintenance on both of its crude units, and Valero Energy Corp.'s Corpus Christi, Texas, plant will work on a fluid catalytic cracker.
Future maintenance schedules don't take into account unplanned outages from natural disasters or emergency repairs. Exxon's 238,600-barrel-a-day refinery in Illinois is running at reduced rates right now due to issues with its sole crude unit and will have to make repairs mid-first quarter.
Maintenance on key gasoline-production units also appear seasonally lighter than in 2017. U.S. fluid catalytic cracker outages January through March will average about 240,000 barrels a day, according to data compiled by Bloomberg.
Weaker Margins
If refiners that forgo a winter turnaround keep production high in January, when gasoline demand is typically weakest, they could exacerbate an already massive build-up in products. Utilization rates and gasoline stockpiles are at the highest levels since August, according to the latest Energy Information Administration data.
The gasoline crack spread, a rough measure of the profit from refining crude into gasoline, traded at above $15 a barrel on Wednesday, data compiled by Bloomberg show.
Unless refiners export more products or reduce run rates, swelling gasoline supplies could shrink profit margins.
1
2
View Full Article
Generated by readers, the comments included herein do not reflect the views and opinions of Rigzone. All comments are subject to editorial review. Off-topic, inappropriate or insulting comments will be removed.