US Energy Industry Slams Trump's 'Job-Killing' Steel Tariffs
by Reuters
|
Timothy Gardner & Erwin Seba
|
Thursday, March 01, 2018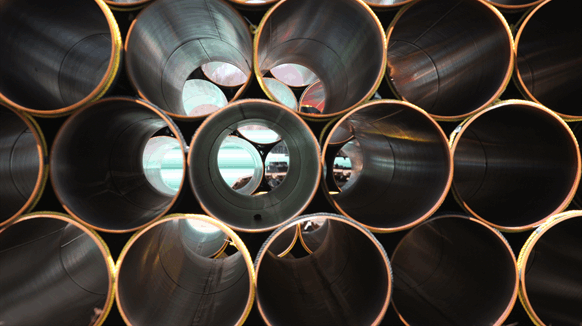 President Trump's announcement draws sharp criticism from the head of the main US oil lobby group.
HOUSTON/WASHINGTON, March 1 (Reuters) - The U.S. oil and gas industry on Thursday slammed President Donald Trump's plan to impose tariffs on imported steel, saying the move would kill energy jobs by raising costs for big infrastructure projects.
Officials at the nation's top energy industry trade groups issued statements urging Trump to drop the idea, and a source familiar with Exxon Mobil's investment plans said the tariff could lead the company to curtail an expansion of one of the country's biggest oil refineries.
"These tariffs would undoubtedly raise costs for U.S. businesses that rely heavily on steel and aluminum for the majority of their products – and ultimately consumers," said Jack Gerard, president of the American Petroleum Institute.
He pointed out that the U.S. oil and gas industry relies on imported steel for drilling equipment, pipelines, liquefied natural gas terminals and refineries and said tariffs were being introduced "in the guise of national security concerns."
Pipeline trade groups noted that the cost for specialized steel needed to build arteries that carry crude oil and other products would rise. "We are urging the administration to avoid killing U.S. jobs through a steel tariff that impacts pipelines," said Andy Black, CEO of the Association of Oil Pipe Lines (AOPL).
Trump said on Thursday that he would move next to impose tariffs of 25 percent on steel imports and 10 percent on imported aluminum next week, in a move intended to protect U.S. industry. But critics said would fail to boost jobs and risked stoking a trade war with China.
A study by AOPL last year showed that a 25 percent increase in pipeline costs could increase a typical project by $76 million, while major lines like TransCanada's proposed Keystone XL expansion would cost at least $300 million more.
A spokeswoman for the Interstate Natural Gas Association of America said the tariff could pose a problem because the type of pipe and the steel used to make thick-walled interstate pipelines are not available off the shelf domestically.
Both groups said that about three-quarters of current pipeline project spending ends up in the pockets of American workers and business owners.
The tariffs would have uncertain impacts on coal miners, who make up a portion of Trump's base. Luke Popovich, a spokesman for the National Mining Association, said if tariffs boosted domestic steel making it would be a boon for some producers of metallurgical coal - used in steel mills.
But metallurgical coal miners also export to markets in Asia, a business that has soared this year. If Trump's tariffs resulted in a trade war with Asian countries, it could harm U.S. coal miners, Popovich said.
The Trump administration has sought to support all sides of the fossil fuel industry, but that has at times led to squabbling between drillers and miners.
Exxon Woes
A source familiar with ExxonMobil Corp's deliberations about a possible expansion of the Beaumont, Texas, refinery said an increase in steel prices could impact the company's decision on adding a third unit for distillation of crude oil.
The source also said the company could bypass duties on imported steel by importing the components of a crude unit directly from a manufacturer overseas into the refinery, which is a foreign trade zone.
An Exxon spokeswoman was not immediately available to discuss the company's plans. The Beaumont refinery currently can process 362,300 barrels of crude oil a day; a proposed expansion to 700,000 to 850,000 barrels a day would make it the nation's largest.
Meanwhile, a U.S.-based railcar manufacturing executive said the bulk of rail cars made in North America come from U.S. or Canadian steel and fears the tariffs will trigger a trade war that leads to higher domestic prices. Roughly 60 percent of the rail car cost comes from steel, said the executive, who was not authorized to speak to the press.
"I am real concerned. I think this going to jack up prices and backfire," the executive said. A trade group representing liquefied natural gas companies also expressed concern that the Trump administration's plan to impose tariffs on steel could have the "unintended effect of endangering much-needed U.S. LNG export projects."
(Reporting by Valerie Volcovici and Timothy Gardner in Washington; Erwin Seba and Liz Hampton in Houston; Jarrett Renshaw, Scott DiSavino and Devika Krishna Kumar in New York; editing by Cynthia Osterman)
Generated by readers, the comments included herein do not reflect the views and opinions of Rigzone. All comments are subject to editorial review. Off-topic, inappropriate or insulting comments will be removed.