U.A.E. Makes Significant Gas Field Discovery
by Bloomberg
|
Anthony DiPaola
|
Monday, February 03, 2020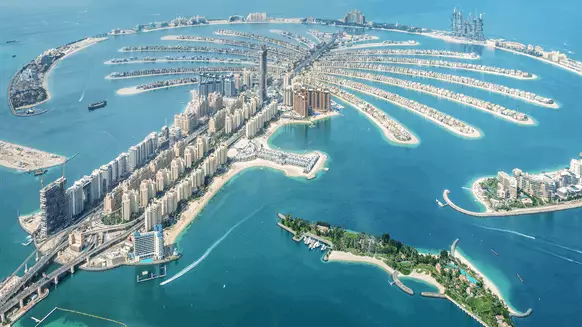 The deposit could meet the country's entire gas demand for nearly three decades.
(Bloomberg) -- Dubai and Abu Dhabi made what could be the world's largest natural gas discovery since 2005 as the two biggest sheikhdoms in the United Arab Emirates aim to push the country to energy self sufficiency.
The Jebel Ali reservoir located between the two emirates has 80 trillion cubic feet of gas resources, according to tweets by Sheikh Mohammed bin Zayed Al Nahyan, Abu Dhabi's crown prince, and Sheikh Mohammed bin Rashid Al Maktoum, the U.A.E.'s prime minister and Dubai's ruler. The country is seeking to become self-sufficiency in gas supply by 2030, a step that would allow it to break its reliance on imports from Qatar, with which it has been locked in a 2 1/2-year diplomatic dispute.
"This is an enormous discovery for the U.A.E.," said Liam Yates, an analyst at consultant Wood Mackenzie Ltd. The deposit could meet the country's entire gas demand for nearly three decades, depending on the amount of gas that can be recovered from the reservoir, he said.
Abu Dhabi National Oil Co., the government-owned energy giant known as Adnoc, will jointly develop the reservoir with distributor the Dubai Supply Authority.
The U.A.E., an OPEC member and a major oil exporter, is looking to gas and other sources of energy to diversify and guarantee security of supply. The burgeoning Middle Eastern business and tourism hub is building nuclear, solar and coal-fired power plants, while Adnoc has invited international companies to help tap previously inaccessible gas deposits.
The Jebel Ali discovery is the biggest since the Galkynysh field was found in Turkmenistan 15 years ago, according to WoodMac's Yates. The announced resources would make it the fourth-biggest gas field in the Middle East behind Qatar's North Field and Iran's South Pars, which are part of the same Persian Gulf deposit that make up the world's largest offshore gas field. Abu Dhabi's Bab field is the third-largest, according to WoodMac.
While the U.A.E. is among the world's 10 biggest holders of gas reserves, the Jebel Ali project marks the first time Adnoc has explored for the fuel in Dubai. The company drilled more than 10 wells to make its discovery, and will use both standard and unconventional drilling techniques to pump out the fuel, it said.
To contact the reporter on this story:
Anthony DiPaola in Dubai at adipaola@bloomberg.net
To contact the editors responsible for this story:
Nayla Razzouk at nrazzouk2@bloomberg.net
Rakteem Katakey, Amanda Jordan
Generated by readers, the comments included herein do not reflect the views and opinions of Rigzone. All comments are subject to editorial review. Off-topic, inappropriate or insulting comments will be removed.
RELATED COMPANIES
Company: Abu Dhabi National Oil Co. (ADNOC)
more info