Trump Tariff on Mexican Oil Would Hurt US Gulf Refiners
by Bloomberg
|
David Marino
|
Friday, May 31, 2019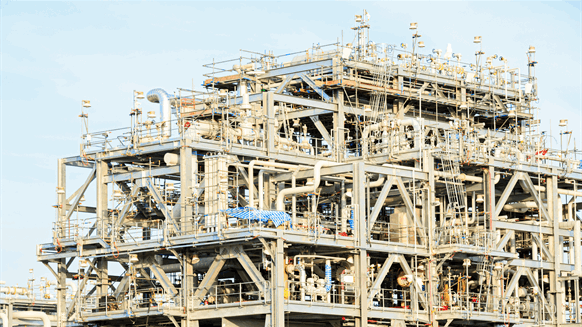 U.S. refiners could get hit if crude is included in President Trump's threatened 5 percent tariff on Mexican goods.
(Bloomberg) -- U.S. oil refiners could get hit if crude is included in President Donald Trump's threatened 5 percent tariff on Mexican goods.
Trump announced the tariff in a Twitter post on Thursday, without giving details. Mexico accounts for about 10 percent of U.S. oil imports, with sophisticated refineries along the Gulf Coast geared to turn Mexico's sludgy Maya crude into gasoline and diesel.
A 5 percent tariff would add about $3 a barrel to the cost of Maya, which was worth about $58 on Friday, according to data compiled by Bloomberg. The profit margin for using Maya to make fuels is $6.86 a barrel, according to Oil Analytics data, so the increase in crude cost could slash that almost in half.
West Texas Intermediate, the U.S. benchmark, dropped 2.3 percent at 10:32 a.m. on the New York Mercantile Exchange, after earlier trading at the lowest since March 8. Trump's tweet also rattled U.S. equities, with the Dow Jones Industrial Average sinking deeper into its longest streak of weekly losses since 2011.
Worst-hit among refiners would be Royal Dutch Shell Plc's Deer Park plant in Texas, which is a joint venture with Mexico's state oil company Petroleos Mexicanos. Shell is the biggest importer of Mexican crude, bringing in 148,000 barrels a day in February, according to data from the Energy Information Administration.
American companies Valero Energy Corp. and Chevron Corp. are the next-biggest purchasers, bringing in more than 200,000 barrels a day combined.
"At the moment the gas cracks look favorable for the refiners" in the U.S. Gulf, said Wood MacKenzie analyst Ixchel Castro in Mexico City. "But an increase in the price of Maya would affect the margins of those who already have the oil contracted and other producers will try to take advantage to place their heavy crudes at a more competitive price."
There is some maneuver room for Pemex to send oil to Asia, but Mexico's "contractual commitments limit this flexibility," she added.
The proposed tariffs come at a time when the international market for heavy crude is tightening amid sanctions on Venezuela and Iran, ''making it difficult for investors to ascribe value to widening crude quality differentials,'' Cowen Inc. analysts led by Jason Gabelman wrote in a note to clients. The impact of the tariffs on refiners will start to show up in third-quarter earnings, the analysts said.
''PBF Energy Inc. and Valero are most exposed to these impacts, while Phillips 66 and Marathon Petroleum Corp.'s exposure is less pronounced due to their more diversified nature,'' the analysts said.
Valero's shares dropped as much as 4.7 percent in New York and PBF fell 3.5 percent.
--With assistance from Amy Stillman, Caleb Mutua and Michael Bellusci.To contact the reporter on this story: David Marino in New York at dmarino4@bloomberg.net To contact the editors responsible for this story: David Marino at dmarino4@bloomberg.net Simon Casey
Generated by readers, the comments included herein do not reflect the views and opinions of Rigzone. All comments are subject to editorial review. Off-topic, inappropriate or insulting comments will be removed.