Trump: Europe to Become 'Massive' Buyer of U.S. LNG
by Bloomberg
|
Ryan Collins & Naureen S. Malik
|
Thursday, July 26, 2018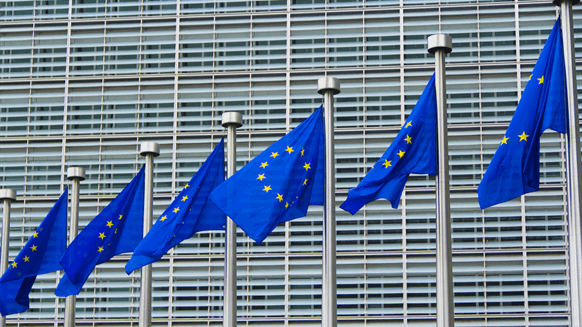 Europe will build more terminals to import US LNG, the head of the European Commission told US President Trump during a meeting aimed at averting a transatlantic trade war.
(Bloomberg) -- Europe will build more terminals to import U.S. liquefied natural gas, the head of the European Commission told U.S. President Donald Trump during a meeting aimed at averting a transatlantic trade war.
"They want very much to do that, and we have plenty of it," Trump said, referring to the U.S. shale boom, which has unleashed record supplies of the heating and power-plant fuel. "They will be a massive buyer, and they will be able to diversify their energy supply."
The comments were part of a bigger agreement in which Trump and Jean-Claude Juncker, the European Commission president, said they would suspend new tariffs while negotiating over trade. The two leaders also pledged to expand imports of soybeans and to lower industrial tariffs, excluding autos.
LNG imports to Europe are poised to rise almost 20 percent by 2040 from 2016 levels, according to International Energy Agency. While Russia has long been the region's top supplier, it's now facing significant challenges from both the U.S. and Qatar, rivals with vast natural gas reserves.
Trump and Juncker spoke to the media after meeting at the White House. The comments quickly sparked investor reaction for both Cheniere Energy Inc., America's largest exporter of LNG, and Tellurian Inc., which is working to get its export project in Louisiana approved.
Cheniere, Tellurian Climb
Cheniere climbed as much as 3 percent in late New York trading, while Tellurian gained as much as 2.9 percent. Cheniere and Tellurian weren't immediately available for comment.
Liquefied Natural Gas Ltd., which has a fully permitted project in Louisiana, currently has a number of active discussions ongoing with potential European customers, according to spokesman Micah Hirschfield.
"Any resolution to trade differences is a good thing for deal making in the LNG space," Hirschfield said by telephone. "This is great news today and we hope it leads to even better news moving forward."
The comments by Trump and Juncker come as at least four new U.S. LNG export projects are slated to start up by 2020. Since early 2016, the U.S. has shipped 41 cargoes of LNG to Europe, according to ship tracking data compiled by Bloomberg. That's about 10 percent of U.S. LNG exports.
Europe is looking to step up gas imports with its largest production field in the Netherlands slated to shut and France moves toward shutting nuclear power plants.
"There are plenty of supply options here to be able to meet increased European demand," said Jason Feer, global head of business intelligence at Poten & Partners Inc., in a telephone interview. European demand is rising as domestic production declines.
After Cheniere began shipping gas two years ago from its Sabine Pass terminal in Louisiana -- the first to send shale output abroad -- the U.S. became a net exporter of the fuel for the first time since the 1950s. This year, Dominion Energy Inc. opened the first export facility on the East Coast, providing a quicker route to European buyers.
Europe is "one of the biggest surprises" in terms of rising demand for gas, Tom Earl, chief commercial officer at U.S. LNG developer Venture Global LNG, said at conference in Amsterdam in May. Venture Global, which is building an export terminal in Louisiana, has already signed supply deals with BP Plc and Portugal's Galp Energia SGPS SA.
Many of the continent's buyers, particularly in Eastern Europe, are eager for alternatives to Russian supply. Gas flow to Europe was disrupted twice, in 2006 and 2009, over a pricing dispute between Russia and Ukraine. Meanwhile, Lithuania and Poland have built terminals to import cargoes of liquefied natural gas from overseas, reducing their reliance on Russia.
1
2
View Full Article
Generated by readers, the comments included herein do not reflect the views and opinions of Rigzone. All comments are subject to editorial review. Off-topic, inappropriate or insulting comments will be removed.