Trump Doubles Down on Keystone Oil Pipeline
by Bloomberg
|
Robert Tuttle and Jennifer A. Dlouhy
|
Monday, April 01, 2019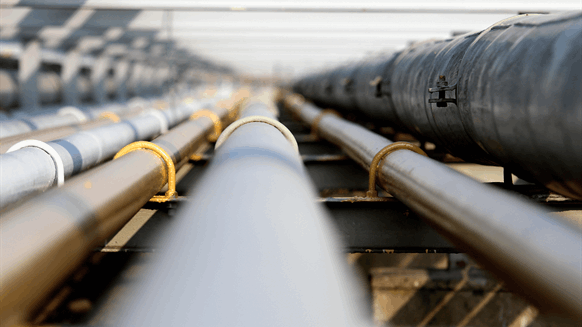 The move aims to undercut legal challenges to the $8 billion project.
"Rescission of the prior presidential permit appears to render those proceedings moot," ClearView analysts said in a note. Mooting the Montana case could end delays related to further State Department environmental review of the project and void an injunction blocking pre-construction work, possibly allowing it to begin in August, ClearView said.
Although the move may help resolve concerns in Montana that focused on the State Department's environmental review, it does little to address a case before Nebraska's Supreme Court, which is is yet to rule on an opposition challenge to the state Public Service Commission's approval of an alternate route to the path championed by TransCanada. TransCanada also appears to need multiple water quality permits for the project in South Dakota, according to Clearview.
Refiner Demand
U.S. refiners have been seeking alternative supplies of heavy crude oil after sanctions against Venezuela and a political crises in the Latin American country brought imports from the country to zero in recent weeks. At the same time, Canadian oil producers have been desperate to get new export pipelines built after a surge of new production last year caused a glut that depressed prices and prompted Alberta to impose production curtailments.
"The interest in having Keystone completed has never been higher, from a security standpoint," Kevin Birn, IHS Markit's director of North American crude oil markets, said in a phone interview. "The U.S. refiners demand heavy oil in the absence of Venezuelan" crude, he said.
Conservationists blasted the decision, saying it did nothing to address deep environmental problems with the project.
"The Keystone XL tar sands pipeline was a bad idea from day one and it remains a terrible idea," said Anthony Swift, director of the Canada project at the Natural Resources Defense Council. "If built, it would threaten our land, our drinking water, and our communities from Montana and Nebraska to the Gulf Coast."
--With assistance from Rachel Adams-Heard, Andrew Harris and Kevin Orland.To contact the reporters on this story: Robert Tuttle in Calgary at rtuttle@bloomberg.net ;Jennifer A. Dlouhy in Washington at jdlouhy1@bloomberg.net To contact the editors responsible for this story: David Marino at dmarino4@bloomberg.net Catherine Traywick
1
2
View Full Article
Generated by readers, the comments included herein do not reflect the views and opinions of Rigzone. All comments are subject to editorial review. Off-topic, inappropriate or insulting comments will be removed.