Trump Disavows Iran Deal: What's at Stake for Oil Markets
by Bloomberg
|
Anthony DiPaola & Angelina Rascouet
|
Friday, October 13, 2017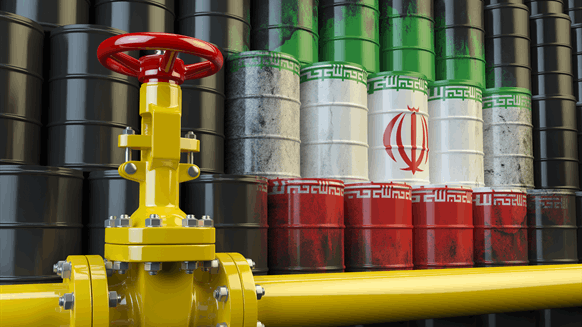 Iran, already struggling to attract investors to its energy industry, may find things tougher still as Trump refuses to certify the nuclear deal.
(Bloomberg) -- Iran, already struggling to attract investors to its energy industry, may find things tougher still as U.S. President Donald Trump refuses to certify the nuclear deal that eased sanctions on OPEC's third-largest crude producer.
In a speech Friday, Trump stopped short of abandoning the nuclear agreement but said he would impose new sanctions on Iran, particularly its Revolutionary Guard Corps, a branch of the armed forces that owns many businesses including in the oil industry. The move won't immediately curb the flow of some 2.3 million barrels of daily Iranian crude exports -- more than three times the amount of oil the U.S. has sold abroad over the past year.
For energy producers, however, the administration's more confrontational approach does raise the risk of doing business in the Middle Eastern nation. Companies such as Total SA, which in July became the first major Western energy company to sign a production deal with Iran since the 2015 accord, may face new hurdles in contributing to the country's estimated $100 billion need for oil and natural gas investment.
Noting Iran "is not living up to the spirit of the deal," Trump also warned he would terminate the agreement unless its shortcomings are addressed.
Trump's decision was expected, but still makes "the deal shaky," said Iman Nasseri, a senior consultant at London-based researcher FGE. Delegating further action to Congress will "keep everyone in an even more uncertain environment for longer, and also make deals with Iran even harder."
How will Trump's decision affect energy markets?
Trump has potentially weakened, but for the moment left largely intact the accord that world powers reached with the Persian Gulf nation two years ago.
The White House has argued that Iran's actions, including missile tests and support for groups like Hezbollah, violate the spirit of the deal. "It is time for the entire world to join us in demanding that Iran's government end its pursuit of death and destruction," Trump said in a statement issued by the White House.
The Persian Gulf nation says its complying with the pact, which was intended to prevent it from developing nuclear weapons. Foreign Minister Javad Zarif said before Friday's announcement that the U.S. has "failed to implement its side of the bargain."
The immediate effect on Iran's crude sales may be limited. Under the last round of sanctions, the U.S. relied on the willingness of Asian customers to buy less Iranian oil, while the European Union imposed a full embargo. Unless other parties to the deal are willing to renegotiate or scrap it -- which so far they have shown little desire to do -- the U.S. under Trump is likely to be isolated this time if it targets oil sales.
"Europe seems unwilling to re-impose oil-related sanctions, as was the case in 2012," said Homayoun Falakshahi, an analyst at consultant Wood Mackenzie Ltd. America itself hasn't bought Iranian oil for close to 40 years, but it could seek to pressure buyers of Iranian crude, especially those with assets in the U.S., he said.
The Gulf country's exports have flooded back into Asian and European markets, roughly doubling to between 2.2 million and 2.4 million barrels a day since sanctions were eased last year upon completion of the nuclear deal. Shipments to Europe surged to about half a million barrels a day after the EU lifted its embargo. Iran's sales to China, its biggest buyer, swelled in August to the highest level since June 2016, according to ship-tracking data compiled by Bloomberg.
What's the impact on companies investing in Iranian energy?
Trump's decision adds to political risk of doing business in Iran, which was already higher than many other resource-rich countries. It could choke off the foreign investment Iran needs to rehabilitate aging energy assets and boost oil and gas production.
The administration is "not particularly optimistic" about the situation and "may be out of the deal" if it can't be fixed, U.S. Secretary of State Rex Tillerson told reporters on Friday.
The U.S. has the tools to punish energy companies doing business with the Islamic Republic, as many have operations in the U.S. and use dollars to pay for equipment and contractors. "Project finance and investment will become even tougher than they are today," said FGE's Nasseri.
1
2
View Full Article
Generated by readers, the comments included herein do not reflect the views and opinions of Rigzone. All comments are subject to editorial review. Off-topic, inappropriate or insulting comments will be removed.