Trump Backs Away From Conflict With Iran
by Bloomberg
|
Josh Wingrove & Jennifer Jacobs
|
Wednesday, January 08, 2020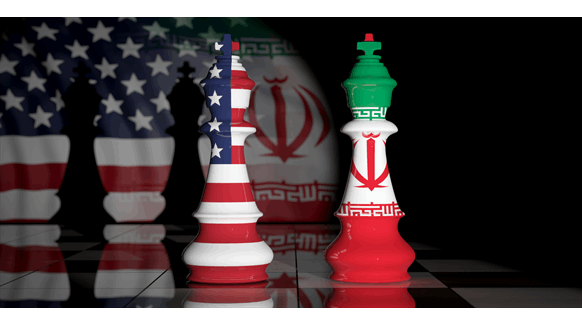 U.S. President Donald Trump backed away from the precipice of war with Iran after the Islamic Republic attacked U.S. bases in Iraq.
(Bloomberg) -- President Donald Trump backed away from the precipice of war with Iran after the Islamic Republic attacked U.S. bases in Iraq with a barrage of missiles the Pentagon believes was intended to cause no casualties.
In televised remarks to the nation on Wednesday, Trump defended the U.S. strike on a top Iranian general that touched off the missile barrage and said he would impose new sanctions on Tehran.
"As long as I'm president of the United States, Iran will never be allowed to have a nuclear weapon," Trump said as he began his speech.
But he also offered the country's regime a diplomatic opening. Any new nuclear deal, he said, must allow "Iran to thrive and prosper, and take advantage of its enormous untapped potential. Iran can be a great country."
Iran fired more than a dozen guided missiles at two U.S. bases in Iraq in retaliation for the killing of Qassem Soleimani. But a Pentagon analysis of the attack suggested the missiles were aimed at unpopulated parts of the bases, according to people familiar with the matter.
A U.S. official said the American military had indications well ahead of launching that missiles were to be fired, giving them time to move about 1,000 personnel at the Al Asad base into hardened shelters and to take other measures. Satellite imagery of the bases provided by Planet Labs showed damaged aircraft hangers and other structures at the Al Asad airbase in western Iraq following the strike.
"Iran appears to be standing down," Trump said. "Which is a good thing for all parties concerned and a very good thing for the world."
Iran's restraint and Trump's measured remarks in response suggest a path toward easing tensions with Tehran, which surged after Soleimani's killing in a U.S. drone strike near the Baghdad airport last week.
Iranian Foreign Minister Javad Zarif said on Twitter earlier Wednesday that the missile attack "concluded" Iran's retaliation for Soleimani's killing. Even if Tehran refrains from further direct attacks, it might still seek reprisals through more covert means, such as attacks by proxy militias or in cyberspace.
An Iranian official said earlier this week that its government was considering 13 means of retaliation that would inflict a "historic nightmare" on the U.S.
The S&P 500 pushed to a fresh intraday record after Trump's remarks. Treasuries turned lower after spiking overnight following the Iranian attack. Oil fell below $61 a barrel in New York.
'Top Terrorist'
Trump said Soleimani was "the world's top terrorist" and was "personally responsible for some of the absolutely worst atrocities," including the training of "terrorist armies" and "fueling bloody civil wars across the region." He said Iranian weapons Soleimani supplied to Iraqi militants had injured or killed thousands of U.S. troops.
Trump had threatened to strike 52 Iranian targets were any Americans killed in Tehran's reprisals for Soleimani's death.
He said Wednesday that "peace and stability cannot prevail in the Middle East as long as Iran continues to foment violence, unrest, hatred and war." New sanctions would remain in place until the Islamic Republic becomes less bellicose, he said.
1
2
View Full Article
Generated by readers, the comments included herein do not reflect the views and opinions of Rigzone. All comments are subject to editorial review. Off-topic, inappropriate or insulting comments will be removed.