Transocean Semisub Uses Battery-Powered Thrusters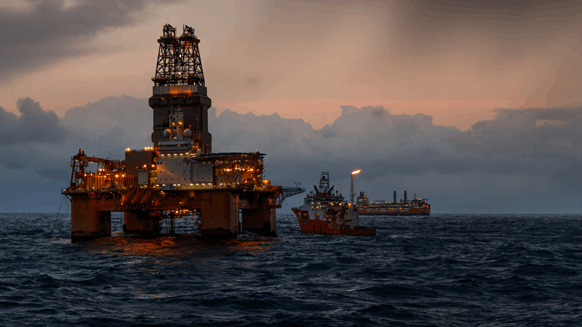 Tech designed to save fuel and reduce environmental impact.
Aspin Kemp and Associates Inc. (AKA), a Canada-based engineering and power systems firm, reported Monday that it has enabled Transocean's Spitsbergen semi-submersible to become the first drilling vessel to run its thrusters from batteries.
AKA successfully installed and tested Energy Storage Systems (ESS) that transfer power to the Transocean Spitsbergen drilling vessel, the company notes in a written statement emailed to Rigzone. It contends that the hybrid power system demonstrates the safe installation of lithium-ion batteries on an offshore drilling rig and enables safer operation and increased reliability for station-keeping. The company also claims that the technology deployment optimizes how diesel engines are run, saving fuel and reducing environmental impact.
"This project is a step-change in the way industry views currently operating drilling rigs," stated Jason Aspin, AKA's CEO. "It demonstrates that these rigs can be converted to safer, more reliable and environmentally responsible operations without incurring downtime."
In the case of the Transocean Spitsbergen, AKA stated that it converted the Class 3 dynamic positioning system (DP3) to closed-bus operation and added 5.6 megawatts of hybrid power. The company contends that using a closed-bus configuration improves operating efficiency. As AKA's website notes, an open bus system – in contrast – "essentially creates multiple power plants that are all operating independently to supply vessel loads with their required power."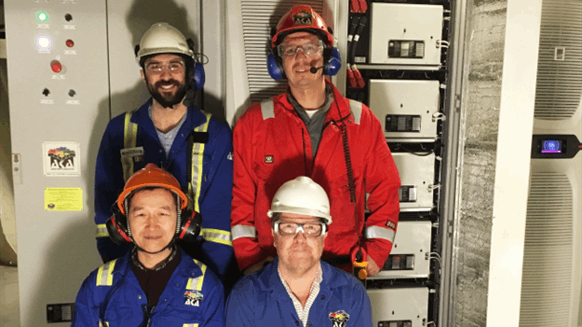 Members of AKA's engineering team in front of the company's ESS on the Transocean Spitsbergen. Clockwise, from top right: Aleksandar Cholakov, Paul Fletcher, Jack Yan and Tristan Caron-Levesque. SOURCE: AKA
According to AKA, the thrusters can operate completely independently of the main generators and distribution system. The firm also noted that the retrofit project is underway in Norway while the semisub is in full operation. Having successfully demonstrated the hybrid concept on the first thruster where the ESS transferred energy to the thruster for a short period of time, AKA's on-site team is continuing with commissioning the rig's remaining seven thrusters, the company added.
Aspin remarked that using his firm's ESS at the thrusters substantially represents a new approach to enhancing the safety of offshore drilling rigs because it keeps the vessels in position even during a potential power plant failure.
"This prevents them from drifting off the drilling location, which endangers the people who work on these rigs and our environment," explained Aspin. "The project is a continuation of our partnership with Transocean who have proven time and time again that they will be at the forefront of technological development through investing and collaborating on these innovative technologies."
Generated by readers, the comments included herein do not reflect the views and opinions of Rigzone. All comments are subject to editorial review. Off-topic, inappropriate or insulting comments will be removed.