TransCanada Expands Gas Pipelines With Keystone XL in Limbo
by Bloomberg
|
Kevin Orland
|
Thursday, February 15, 2018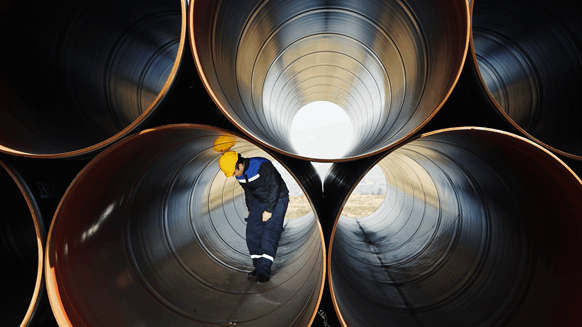 TransCanada announces another major expansion of its natural gas system in Alberta.
(Bloomberg) -- While TransCanada Corp. continues to weigh whether to build its long-delayed Keystone XL oil pipeline, the company announced another major expansion of its natural gas system in Alberta.
TransCanada will spend C$2.4 billion ($1.9 billion) to expand its NGTL System, adding 1 billion cubic feet of daily shipping capacity, according to a statement Thursday. The company struck binding agreements with shippers that start in November 2020 and April 2021, with an average contract term of almost 29 years.
The expansion shows TransCanada isn't sitting still while it considers whether to move ahead with Keystone XL. The company has been proceeding with preliminary work on the $8 billion, 1,200-mile (1,930-kilometer) project, but hasn't officially announced a decision to build it. Activists haven't given up trying to block it, with opposition groups filing a motion to invalidate a key permit last week. TransCanada made no significant new announcements about Keystone XL in its fourth-quarter earnings report on Thursday.
Even without Keystone XL, the company's oil transport business posted strong results. The unit's comparable earnings before interest, taxes, depreciation and amortization rose 33 percent to C$401 million, helped by higher volumes on the existing Keystone system and the start of operations on its Grand Rapids and Northern Courier lines.
For the company as a whole, profit excluding some items was 82 Canadian cents a share, the company said in a separate statement. Analysts estimated 75 cents, on average. TransCanada boosted its quarterly dividend 10 percent to 69 cents a share.
The shares rose 4.4 percent to C$55.98 at 10:33 a.m. in Toronto. TransCanada has slid 8.2 percent this year, compared with a 13 percent drop for the S&P/TSX energy index.
The expansion on the NGTL system may bring some relief to Canadian natural gas drillers who have suffered through wild swings in pricing as rising production from the prolific Montney formation tries to move through a crowded pipeline network. Maintenance on the system last summer sent AECO gas's discount to Henry Hub to the widest in more than a decade.
The project unveiled on Thursday follows a C$2 billion expansion that TransCanada announced in June. Shippers had signed on for more than 2.6 billion cubic feet a day in new supply contracts for that project.
With assistance from Meenal Vamburkar.To contact the reporter on this story: Kevin Orland in Calgary at korland@bloomberg.net. To contact the editors responsible for this story: Reg Gale at rgale5@bloomberg.net Christine Buurma, Joe Carroll.
Generated by readers, the comments included herein do not reflect the views and opinions of Rigzone. All comments are subject to editorial review. Off-topic, inappropriate or insulting comments will be removed.
RELATED COMPANIES