The 2020 Oil Market Is Turning Ugly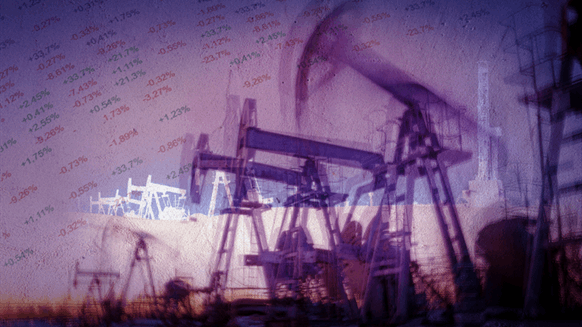 Oil bulls thought 2020 would be their year.
The first tentative glances into 2020 by oil consultants are nearly unanimous about the prospect of oversupply -- a view shared in private by major commodity trading houses. The surpluses are all the more remarkable because none is predicting a recovery in Iranian and Venezuelan output. Over the last year, the combined output of the two troubled OPEC producers has dropped roughly 2.2 million barrels a day -- equal to what Germany consumes.
S&P Global Platts, the owner of what was previously named PIRA Energy consultants, put the surplus next year at around 400,000 barrels a day in a report to clients in May. The Energy Information Administration, the statistical arm of the U.S. Department of Energy, sees a 100,000 barrel-a-day excess. And Energy Aspects, another influential consultant popular with hedge funds and big trading houses, sees a "large" stock-build of 500,000 barrels a day. IHS Markit expects a total surplus of 800,000 barrels a day next year.
The surpluses, however, mask notable differences within the petroleum market, with most consultants anticipating a larger overhang in refined products than in crude.
Although the Paris-based IEA hasn't yet published its first detailed look into 2020, it offered some glimpses of its thinking earlier this year when it published a 5-year outlook from 2019 to 2024. In that report, it forecast oil demand next year at 102 million barrels a day, and production from non-OPEC countries plus condensates from OPEC at 71.9 million barrels. That, effectively, will leave a gap for OPEC crude to fill of just 30.1 million barrels, close to the cartel's current production.
Since the publication of the report, the IEA has raised its non-OPEC supply view for 2019, and lowered its demand forecast, suggesting that if the cartel keeps pumping at current levels, production will exceed demand in 2020.
To contact the reporter on this story:
Javier Blas in London at jblas3@bloomberg.net
To contact the editors responsible for this story:
Will Kennedy at wkennedy3@bloomberg.net
James Herron
1
2
View Full Article
Generated by readers, the comments included herein do not reflect the views and opinions of Rigzone. All comments are subject to editorial review. Off-topic, inappropriate or insulting comments will be removed.