Texas Refiners Contend with Virus Rebound
by Bloomberg
|
Barbara Powell
|
Friday, July 10, 2020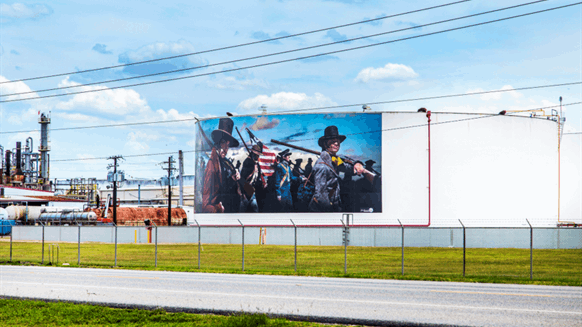 Oil refineries aren't being spared as Covid-19 sweeps through Texas.
(Bloomberg) -- Oil refineries aren't being spared as Covid-19 sweeps through Texas, which is setting records for new infections and hospitalizations in the U.S. almost daily.
The second-biggest U.S. refinery, Marathon Petroleum Corp.'s Galveston Bay plant in Texas City, has well over 100 confirmed cases of the virus, people familiar with operations said. At least four other refineries also have workers who've tested positive.
Texas on Wednesday posted its second record day of virus deaths, bringing total fatalities in the state to 2,813. Virus cases rose 4.7%, exceeding the seven-day average of 4% and hospitalizations jumped 3.5%.
The outbreak at the 585,000 barrel-a-day Galveston Bay plant comes as employees there are wrapping up a major turnaround that brought in more than 500 contractors. Work remains on schedule to be competed within about 2 weeks, the people said.
"We have procedures and protocols in place at all our refineries for keeping the workplace safe, which includes measures to identify, isolate, and trace cases to stem the spread of the virus," spokeswoman Sid Barth said.
In Houston, the epicenter of Texas's virus resurgence, about 50 employees and contractors at LyondellBasell Industries NV's refinery tested positive as of two weeks ago, while 17 others had been placed in quarantine, a person familiar with the situation said. The plant processes 263,776 barrels a day of crude. The company declined to comment on its Covid-19 cases but said that none have been work-related.
Royal Dutch Shell Plc's Deer Park refinery on the Houston Ship Channel had nine workers test positive so far this week for a total of 50 since the start of the outbreak, spokesman Curtis Smith said. The number of workers at the plant, which processes 275,000 barrels of oil a day, remains at about 34% of its pre-pandemic level of 3,500.
Phillips 66 confirmed it had virus cases at its 265,000 barrel-a-day Sweeny refinery but declined to share details, citing privacy concerns. Monitoring, isolation or quarantine is taking place as necessary, the company said in a statement.
Total SA has had "a number of positive Covid-19 cases" in some of its U.S. sites including its refinery in Port Arthur, spokeswoman Marie Maitre said. Workers there are tested on entering the site, wear face coverings and work staggered shifts to achieve social distancing.
To contact the reporter on this story:
Barbara Powell in Houston at bpowell4@bloomberg.net
To contact the editors responsible for this story:
Jasmina Kelemen at jkelemen2@bloomberg.net
Catherine Traywick, Jessica Summers
© 2020 Bloomberg L.P.
Generated by readers, the comments included herein do not reflect the views and opinions of Rigzone. All comments are subject to editorial review. Off-topic, inappropriate or insulting comments will be removed.