Shanghai Crude Benchmark: 'Eccentric Outlier' Rather Than Contender?
by Bloomberg
|
Bloomberg News
|
Wednesday, August 08, 2018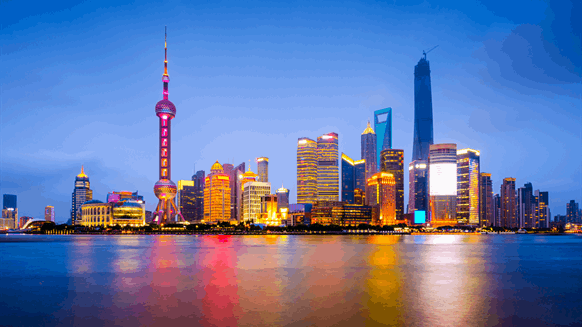 The crude futures contract that China launched with ambitions to challenge U.S. and European benchmarks is proving to be an eccentric outlier rather than a legitimate rival.
(Bloomberg) -- The crude futures contract that China launched with ambitions to challenge U.S. and European benchmarks is proving to be an eccentric outlier rather than a legitimate rival.
Futures in Shanghai -- which made their debut in March -- slid 2.6 percent from the close on Tuesday, when they had jumped by their daily limit to a record. Wednesday's decline has pared gains in August to less than 2 percent. By comparison, Brent crude in London and West Texas Intermediate in New York have been relatively staid and are little changed for the month.
Brent and WTI have been pinned in a tight range as global oil investors grapple with doubts over how demand will be affected by flaring trade tensions between the U.S. and China, the prospect of lower exports from Iran due to American sanctions, uncertainty about Saudi Arabia's output strategy and a fall in stockpiles at the storage hub in Cushing, Oklahoma. The Shanghai futures, meanwhile, seem to be gyrating to a tune of their own.
"The price action does not do the contract any favors as it shows how speculative day-traders remain firmly in control and with that we can see temporary dislocations to the international market," Ole Sloth Hansen, head of commodity strategy at Saxo Bank A/S in Copenhagen, said on Tuesday after September futures jumped 5 percent against the previous session's settlement.
The yuan-denominated contract's move "points to ongoing disconnect between an imperfect exchange and the global crude market," Citigroup Inc. said in a report on Aug. 7.
In another striking occurrence in August, open interest and volume on the December contract has soared after staying low for months. While the Shanghai International Energy Exchange has taken steps to encourage activity beyond the front-month September futures, trading in contracts for October, November, January and February continue to remain weak.
The month for which the bourse -- known as INE -- hasn't reduced trading fees or margin ratio requirements to boost participation? December.
There could be several reasons behind the Shanghai contract's individualist streak. A weaker yuan may be making commodities priced in the local currency cheaper to acquire than dollar-denominated contracts elsewhere, according to Bruce Xue, an analyst with Haitong Securities Co.
In addition to the yuan's depreciation, evidence of tightness in the Chinese market from draws of already-low crude inventories at exchange warehouses may have driven gains, according to Citigroup. Currently, there's only about 100,000 barrels of warranted stockpiles, after 400,000 barrels were drawn down at Dalian, the bank said, adding that the market is expecting more deliveries of different grades toward end of the month.
'Synthetic Composite'
"We have been highlighting over time the challenges for INE in becoming a regional physical crude benchmark given its synthetic composite of seven deliverable products with mixed specifications," Citi's head of commodities research, Ed Morse, wrote. "Now the story appears to be unfolding with the market debating over what the real underlying product is in actuality." Most of the grades deliverable into the futures are from the Middle East.
After the Shanghai price's premium to Middle East benchmark Dubai crude widened to an average of $4-$5 a barrel recently versus parity to $1 in the March-July period, some speculators sold the Chinese futures and bought "Dubai/Brent given uncertainties around upcoming physical settlement of the September contract," Morse said.
As China limits purchases of U.S. crude amid the trade war and risks of Middle East supply being disrupted by American intervention increase, speculation is rising that the world's top oil importer may find itself short of cargoes, Haitong's Xue said. President Donald Trump's administration is set to impose sanctions aimed at curbing Iranian oil exports that will go into force in early November.
Quarterly Focus
The sudden popularity of the December contract versus November or October may have its roots in the traditional preference for Chinese commodity speculators to trade futures on a quarterly basis rather than monthly, according to Xue.
Data compiled by Bloomberg show that investors in Shanghai have been holding contracts on average for an estimated time of under 2 hours since their debut, compared with more than 65 hours for London's Brent crude during the same period, signaling the speculative zeal of the trading in China.
1
2
View Full Article
Generated by readers, the comments included herein do not reflect the views and opinions of Rigzone. All comments are subject to editorial review. Off-topic, inappropriate or insulting comments will be removed.