Shale Sends US Output Past Historic 10 Million-Barrel Mark
by Bloomberg
|
Jessica Summers
|
Wednesday, January 31, 2018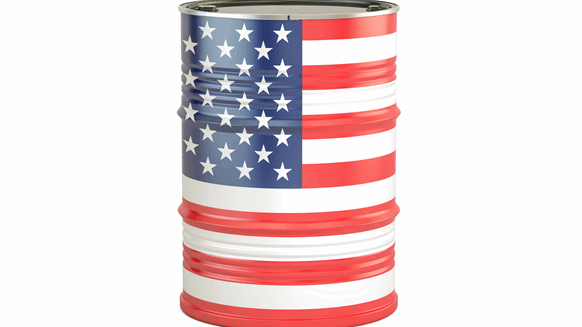 US oil production surged above 10 million barrels a day for the first time in four decades.
(Bloomberg) -- U.S. oil production surged above 10 million barrels a day for the first time in four decades, another marker of a profound shift in global crude markets.
The milestone comes weeks after the International Energy Agency said the U.S. is poised for "explosive" growth in oil output that would push it past Saudi Arabia and Russia this year. New drilling and production techniques have opened up billions of barrels of recoverable U.S. oil in shale rock formations in the past 10 years, reversing decades of declining output and turning the nation into an exporter.
The news also comes after the Organization of Petroleum Exporting Countries decided last year to extend an agreement with several non-OPEC members to curb output in response to a global supply glut fed in part by shale. That agreement was finally showing signs of working, with prices emerging from a three-year downturn. After falling near $26 a barrel in 2016, the global benchmark oil price climbed above $70 a barrel in January, and the U.S. price is following suit. Yet, increasing output from the U.S. may threaten rising price.
"You are starting to see a little bit of a shift in market sentiment on oil given the fact that production is really starting to ramp up," Joseph Bozoyan, a portfolio manager at Manulife Asset Management LLC in Boston, said by telephone. "These U.S. production numbers are starting to take the wind out of the sails of the crude oil market."
Nationwide output climbed to 10.038 million barrels a day in November, the Energy Information Administration reported Wednesday. That's the highest level since November 1970 in monthly data collected by the U.S. agency since 1920. It comes with West Texas Intermediate crude selling for about $64 a barrel, a price that could spur even more drilling.
The Permian Basin of Texas and New Mexico, the engine room for shale production and acquisitions since the oil-price crash, is expected to comprise almost 30 percent of output this year. Exxon Mobil Corp. is spending billions to triple output by 2025 from the Permian, where its costs are as low as $15 a barrel.
Production from Texas, which also included the Eagle Ford play, contributed 3.89 million barrels a day to the November figure, the most of any state. Production from the Gulf of Mexico and North Dakota, where the Bakken shale lies, were close behind.
Weekly EIA data released Wednesday showed U.S. production at a record 9.92 million barrels a day last week.
U.S. production is forecast to average 10.3 million barrels a day this year, and 10.9 million in 2019, the EIA has previously said in its monthly Short-Term Energy Outlook. That's a number that challenges daily production of just less than 10 million barrels by Saudi Arabia in December and almost 11 million by Russia last year.
With assistance from Michael Roschnotti.To contact the reporter on this story: Jessica Summers in New York at jsummers24@bloomberg.net. To contact the editors responsible for this story: David Marino at dmarino4@bloomberg.net Carlos Caminada, Joe Carroll.
Generated by readers, the comments included herein do not reflect the views and opinions of Rigzone. All comments are subject to editorial review. Off-topic, inappropriate or insulting comments will be removed.