Security Issues Continue to Plague Libya's Oil-Supply Growth
by Bloomberg
|
Salma El Wardany
|
Wednesday, July 18, 2018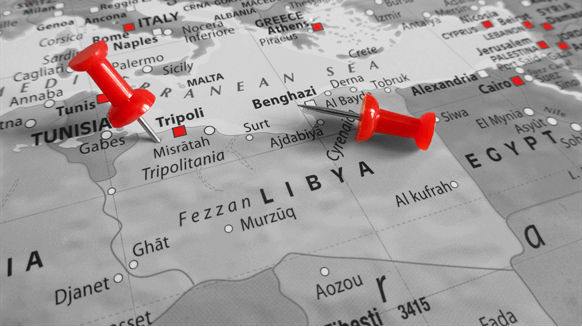 Just as Libya resumes oil exports from recently shuttered ports, an attack on its largest field is setting back progress yet again.
(Bloomberg) -- Just as Libya resumes oil exports from recently shuttered ports, an attack on its largest field is setting back progress yet again.
An incursion by gunmen into the Sharara field on Saturday and the kidnapping of workers there forced the National Oil Corp. to cut production and put a ban on exports. It's the latest in a string of security incidents that have hobbled Libyan shipments despite repeated attempts to restore flows in the politically divided nation.
"This incident required us to shut down and evacuate a number of stations," NOC Chairman Mustafa Sanalla said in a statement. The kidnappers released two of the four abducted workers later the same day but still hold two others.
The persistent assaults on the OPEC state's oil facilities show that any efforts to revive production remain hindered by the same security issues that have long plagued the industry. Following a recent blockade of eastern ports, authorities were able to restart shipments on July 11 -- and resume production at the western El-Feel field the following day -- only to see Sharara come under attack days later.
Libya's biggest oil port, Es Sider, is set to ship its first cargo since re-opening last week, when the tanker Waikiki begins loading 890,000 barrels of crude later on Wednesday, according to a person familiar with the matter who asked not to be identified because the information isn't public.
Biggest Reserves
Even so, the stops and starts mean total production in Libya -- which holds Africa's largest oil reserves -- is currently at about 650,000 to 700,000 barrels a day, a person familiar with the situation said Tuesday. That compares with 1.3 million a day in February.
Sharara has endured sporadic shutdowns and disruptions as a result of armed attacks, protests and power blackouts. The giant field, run by the NOC and international partners, resumed production in December 2016 after a two-year pipeline blockade and has been crucial to the nation's oil recovery after total output dwindled to 45,000 barrels a day in 2011.
Sharara sends its crude to the western Zawiya terminal, where the NOC has declared force majeure. The port had been set to ship 6.93 million barrels this month, according to a loading plan obtained by Bloomberg.
To contact the reporter on this story: Salma El Wardany in Cairo at selwardany@bloomberg.net. To contact the editors responsible for this story: Nayla Razzouk at nrazzouk2@bloomberg.net Bruce Stanley, Amanda Jordan.
Generated by readers, the comments included herein do not reflect the views and opinions of Rigzone. All comments are subject to editorial review. Off-topic, inappropriate or insulting comments will be removed.
RELATED COMPANIES
Company: Libyan National Oil Corporation (NOC)
more info