Seafarers Fret Over New Assault on Jones Act in Wake of Storms
by Bloomberg
|
Daniel Flatley
|
Monday, October 09, 2017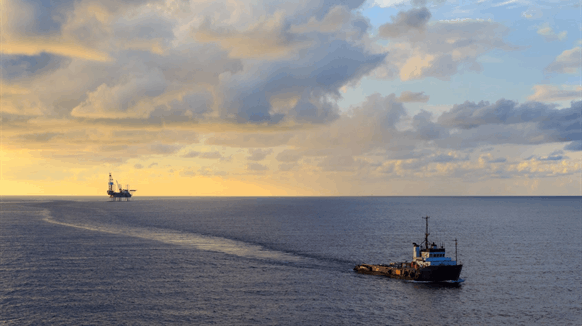 Arizona Sen. John McCain called the Jones Act "an antiquated, protectionist law that has driven up costs."
(Bloomberg) -- On the darkened bridge of the Chesapeake Trader, with radio chatter filling the air, three officers were easing the giant freighter into San Francisco Bay when an unexpected vessel suddenly appeared on the starboard side. They scrambled to avoid catastrophe.
The computerized simulation -- conducted in a landlocked office park outside Baltimore -- is part of a two-week course offered by the International Order of Masters, Mates & Pilots. The union facility was once packed with students working their way up the ranks, but attendance has plunged as the number of U.S.-flagged, oceangoing freighters has fallen from nearly 3,000 in 1960 to fewer than 170 today.
The decline has occurred despite the Jones Act, a law that requires goods moving between U.S. ports and territories to be carried on American-built vessels crewed by American officers and deckhands. That's energized opponents of the nearly 100-year-old law, who say the protectionist measure hasn't saved the fleet and should be curtailed or eliminated once and for all.
"The Jones Act is pretty much the only reason I have a job," said Brett Cowan, a mariner from California attending training at the facility who has been working on boats since he was 13. Changing the act, he said, "would put a lot of us out of work."
The latest attack on the Jones Act follows President Donald Trump's decision to temporarily waive it after Hurricane Harvey disrupted refinery operations in Houston, and again to help aid reach Puerto Rico in the wake of Hurricane Maria.
Senator John McCain, a long-time opponent of the law, took the opportunity to introduce fast-track legislation to permanently exempt Puerto Rico from the law -- something that would eliminate a major shipping route from the act's protection.
"For years, I have fought to fully repeal the Jones Act, which has long outlived its purpose to the benefit of special interests," McCain, an Arizona Republican and former Navy officer. He said in a statement that it's "an antiquated, protectionist law that has driven up costs and crippled Puerto Rico's economy."
The legislation could be included in a vote on an aid package for the island to be voted on this week, according to C. James Patti, president of the Maritime Institute for Research and Industrial Development, a trade association that represents companies with U.S. flagged ships in their negotiations with the pilots' union.
"We didn't like to see the waiver," Patti said. "But on the other hand, the industry accepted it. If it enabled some people to focus on other things, then it did some good."
But opponents of the law are mustering their cases.
"Protectionism, over and over, has proven not to be in the long-term interests of the protected industry," said Scott Lincicome, an adjunct scholar at the free-market focused Cato Institute. "One hundred years of the Jones Act is clearly not working when it comes to maintaining the fleet."
Bipartisan support
Lincicome and Thomas Grennes have separately undertaken in-depth analyses of the law, and they contend that the act has made goods and services more expensive in Alaska, Hawaii and Puerto Rico.
More properly known as the Merchant Marine Act of 1920, the law takes its name from it's sponsor, Wesley Jones, a senator from Washington state. It unites an array of Democrats and Republicans, many of them with ports and shipyards in their districts.
Proponents say it provides a jobs base for American workers who can come to the country's aid in time of war.
1
2
View Full Article
Generated by readers, the comments included herein do not reflect the views and opinions of Rigzone. All comments are subject to editorial review. Off-topic, inappropriate or insulting comments will be removed.
For More Information on the Offshore Rig Fleet:
RigLogix can provide the information that you need about the offshore rig fleet, whether you need utilization and industry trends or detailed reports on future rig contracts. Subscribing to RigLogix will allow you to access dozens of prebuilt reports and build your own custom reports using hundreds of available data columns. For more information about a RigLogix subscription, visit
www.riglogix.com
.