Saudi-Russian Oil Fling Becomes Marriage
by Bloomberg
|
Javier Blas and Jack Farchy
|
Wednesday, July 03, 2019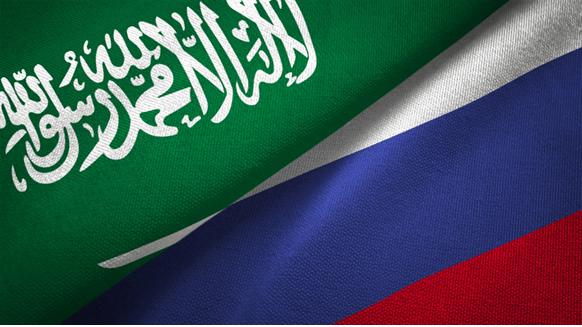 It was supposed to be a six-month fling, but Saudi Arabia and Russia have instead signed up for eternity.
(Bloomberg) -- It was supposed to be a six-month fling, but Saudi Arabia and Russia have instead signed up for eternity.
Complete with poem and celebratory badges, Moscow and Riyadh led two dozen countries in signing a charter to formalize the OPEC+ group that for the past 2 1/2 years has coordinated supply to prop up the price of oil.
OPEC Secretary General Mohammad Barkindo compared the pact to a "Catholic marriage," saying it would last for "eternity."
"The charter may end the perennial questions of whether Russia-Saudi is a relationship built to last," said Helima Croft, chief commodities strategist at RBC Capital Markets. "The charter is the ring in the relationship."
It was a moment that would have been hardly imaginable three years ago, when decades of distrust were poisoning relations between the world's two largest oil exporters as prices languished. In late 2016, in the face of skepticism from analysts and some senior figures in both countries, Khalid Al-Falih of Saudi Arabia and Russia's Alexander Novak promised the output cuts they'd agreed on would last just six months.
Oil Diplomacy
This week, the group agreed to extend the cuts into a fourth year, to March 2020. But signing the charter was a key moment in a much broader Saudi-Russian diplomatic effort.
It was Russian President Vladimir Putin who first telegraphed the result of the OPEC+ meeting, after discussions with Saudi Crown Prince Mohammad bin Salman in Osaka on Saturday. And when Putin visits Saudi Arabia later in the year, Riyadh is planning to invite other heads of state from the OPEC+ group for a signing ceremony of the charter.
For Saudi Arabia, turning what had been an ad hoc coalition into a formal group provides a hedge against future oil-market turbulence. The kingdom can now lean on a group representing almost half of global oil output for support.
For Russia, the formalization of the group helps expand Putin's influence in the Middle East. That's a blow to the U.S., which has spoken out against Russia's growing clout in the region. "I am very confident that Vladimir Putin's efforts will fail," said Secretary of State Mike Pompeo when asked earlier this year whether the Russian president could use oil diplomacy to supplant the U.S. in the Middle East.
The charter is, implicitly, a recognition of the long-term nature of the problem facing Saudi Arabia and the other major oil producers. Oil slid on Tuesday in spite of the agreement, with West Texas Intermediate and Brent dropping 4.8% and 4.1%, respectively. Prices edged higher on Wednesday.
Breakneck growth in U.S. shale oil production, combined with worries about slowing demand growth, mean that the OPEC+ group has little choice but to continue its cuts or see prices plunge.
Al-Falih acknowledged as much, saying that oil producers would need to "keep adjusting" until U.S. shale production eventually peaked.
That's a particularly painful reality for Saudi Arabia, which is doing the bulk of the cutting. Russian output in June of 11.155 million barrels a day is just 0.5% below its level in December 2016, before the cuts deal began. Saudi Arabia's oil production, on the other hand, is more than 7% lower over the same period.
"Russia pulls the strings while Saudi output swings," said Roger Diwan, a veteran OPEC-watcher at IHS Markit Ltd.
1
2
View Full Article
Generated by readers, the comments included herein do not reflect the views and opinions of Rigzone. All comments are subject to editorial review. Off-topic, inappropriate or insulting comments will be removed.