Saudi Responds to Trump with Record Output
|
Monday, November 26, 2018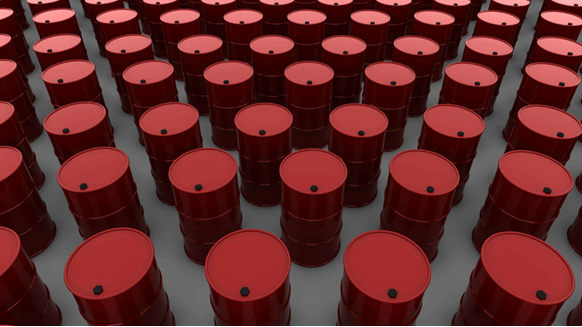 Saudi Arabia is pumping more crude than at any time since its first barrel was extracted 80 years ago, responding to pressure from US President Trump.
(Bloomberg) -- Saudi Arabia is pumping more crude than at any time since its first barrel was extracted 80 years ago, responding to pressure from U.S. President Donald Trump to keep driving oil prices lower.
Saudi daily output reached 11.2 million barrels a day, from 10.8-10.9 million barrels earlier this month, according to a person familiar with the matter, who asked not to be identified because the data is private. While Brent crude, the global benchmark, already tumbled as much as 33 percent since early October, Trump a week ago tweeted: "Thank you to Saudi Arabia, but let's go lower!"
The surge in Saudi supply comes two weeks before the kingdom and its allies in the OPEC+ group meet in Vienna to set policy for 2019. Negotiations have already started and will likely intensify later this week at the G20 summit in Buenos Aires, where the leaders of Saudi Arabia and Russia and their oil ministers are scheduled to meet. The two nations are the world's biggest crude exporters.
"In the past, G20 summits have provided the opportunity to negotiate informally the broad contours of the production agreements that OPEC+ members have later ratified," Amrita Sen, chief oil analyst at Energy Aspects Ltd. in London, said in a note to clients.
Brent fell last week to a one-year low of $58.41 a barrel, down from a four-year high of $86.74 in early October. Prices have slumped as the U.S., Saudi Arabia and Russia increase supply close to a record, at a time when traders are fretting about slowing growth in demand in emerging markets, particularly in Asia.
Trump has repeatedly used Twitter to ask Saudi Arabia and other OPEC members to boost production. In January, Saudi production was below 10 million barrels. More recently Trump has compared lower oil prices to a tax cut and a tool to keep inflation low, giving the U.S. Federal Reserve the opportunity to stop raising interest rates.
Saudi output has also been rising as the kingdom seeks to ensure enough supply as Iranian exports slump following the re-imposition of U.S. sanctions. Buyers of Saudi crude ordered more barrels in early October to guard against a sudden plunge, although in the end the U.S. administration granted more waivers than anyone was expecting.
It's unclear whether Riyadh plans to keep boosting output and a Saudi oil official declined to comment. The surge this month also means that the kingdom is effectively setting a high baseline for any future cut in output. Saudi Arabia has already said it supports a drop in output and has pledged to reduce oil exports by 500,000 barrels a day in December, compared with November.
Key decision makers will be at the G20 summit in Buenos Aires later this week, in a meeting that may well decide the direction of oil prices in 2019. Saudi Crown Prince Mohammed bin Salman and Russian President Vladimir Putin, who have been working together to manage the oil market for the past two years, both plan to be in the Argentinian capital.
"Both have a common interest in seeing a production cut to mitigate the potential future surplus created by the mismatch between the rise in OPEC+ output and the volume of waivers issued for Iranian oil," Jeffrey Currie, the head of commodities research at Goldman Sachs Inc., told clients in a note.
Resisting Trump's desire for lower oil prices would require the Saudi crown prince to go against the White House, just after the president publicly backed him following the killing of Saudi national and Washington Post columnist Jamal Khashoggi.
Khalid Al-Falih and Alexander Novak, the Saudi and Russian energy ministers, are also scheduled to travel to Buenos Aires, according to people familiar with their plans. Their presence reinforces the impression that Saudi Arabia and Russia will try to reach a deal before the OPEC meeting a few days later.
"We believe OPEC+ countries will come to an agreement despite recent tweets from the U.S. arguing for lower oil prices," Currie wrote.
To contact the reporter on this story: Javier Blas in London at jblas3@bloomberg.net. To contact the editors responsible for this story: Stuart Wallace at swallace6@bloomberg.net James Herron.
Generated by readers, the comments included herein do not reflect the views and opinions of Rigzone. All comments are subject to editorial review. Off-topic, inappropriate or insulting comments will be removed.