Saudi Arabia's Economic Revamp Is Still an Oil Story
by Bloomberg
|
Mohammed Aly Sergie
|
Wednesday, May 02, 2018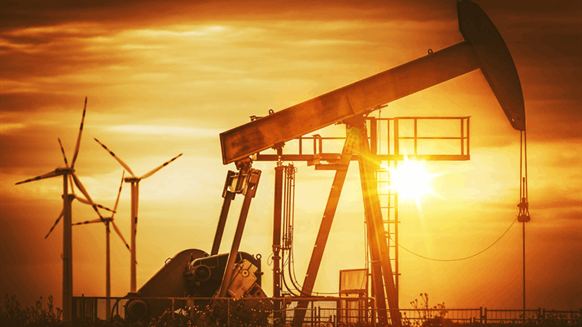 Saudi Arabia's efforts to shore up public finances and revive economic growth are still pretty much dependent on oil prices.
(Bloomberg) -- Saudi Arabia's efforts to shore up public finances and revive economic growth are still pretty much dependent on oil prices, even as the kingdom tries to reduce its reliance on revenue from crude exports.
The world's biggest oil exporter will need crude prices to average almost $88 a barrel this year to balance its budget, according to the latest IMF economic outlook released on Wednesday in Dubai. That compares with $70 in the previous forecast in October. Brent crude, an international benchmark, is currently trading above $70 a barrel, the highest level since 2014.
The increase in the so-called breakeven price reflects the government's plan to boost public spending to a record this year in an attempt to revive economic growth, after gross domestic product shrank 0.5 percent in 2017. The fund expects the breakeven price to fall to about $80 in 2019.
Below are key takeaways from the IMF outlook for the Middle East and North Africa:
The latest IMF data see Saudi Arabia's economy expanding 1.7 percent in 2018. But the rebound is mainly driven by higher government spending, the model that sustained the kingdom's economy over more than four decades.
"This expected acceleration in growth is not a free lunch –- the government is picking up the bill," said Ziad Daoud, chief Middle East economist for Bloomberg Economics. "The old model of an economy driven by government spending and financed by oil hasn't really changed."
Middle Eastern oil exporters had to constrain government spending in recent years after crude prices slid in 2014, forcing them to slash subsidies and introduce fees and value-added taxation. Now that oil is trading around $70 a barrel, budget deficits are starting to shrink for most countries.
Cumulative deficits in the Gulf Cooperation Council, the six-country bloc that includes Saudi Arabia, the United Arab Emirates and Qatar, will fall to about 2 percent of GDP in 2019 from almost 11 percent in 2016, according to the IMF.
But the non-oil balance, which strips out revenue earned from hydrocarbon exports, gives a better picture about progress in diversifying government revenue. For Saudi Arabia, the shortfall is expected to rise to about 39 percent of the non-oil GDP in 2018 compared with 37 percent last year, IMF data show.
To contact the reporter on this story: Mohammed Aly Sergie in Dubai at msergie@bloomberg.net. To contact the editors responsible for this story: Nayla Razzouk at nrazzouk2@bloomberg.net Alaa Shahine, Amy Teibel.
Generated by readers, the comments included herein do not reflect the views and opinions of Rigzone. All comments are subject to editorial review. Off-topic, inappropriate or insulting comments will be removed.