Saudi Arabia Boosts Reserves Ahead of Aramco's IPO
by Bloomberg
|
Anthony DiPaola & Vivian Nereim
|
Wednesday, January 09, 2019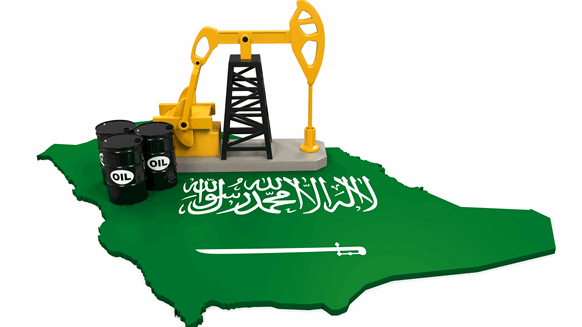 Saudi Arabia published the first audit of its vast oil reserves since it nationalized its energy industry about 40 years ago.
(Bloomberg) -- Saudi Arabia published the first audit of its vast oil reserves since it nationalized its energy industry about 40 years ago, saying its reserves total 268.5 billion, slightly more than the 266.3 billion figure that the government published previously.
The audit, conducted by Dallas-based consultant DeGolyer & MacNaughton Corp., is the first since Riyadh fully nationalized Saudi Aramco between 1976 and 1980, and it comes as the kingdom tries to generate interest in Aramco ahead of a potential initial public offering.
"This certification underscores why every barrel we produce is the most profitable in the world, and why we believe Saudi Aramco is the world's most valuable company and indeed the world's most important," Saudi Energy Minister Khalid Al-Falih said in a statement posted on the state news agency's website.
Saudi Arabia's gas reserves were also revised upward to 325.1 trillion standard cubic feet from 307.9 trillion. The nation's actual oil and gas holdings are bigger than the announced numbers, which are for proven reserves and don't include those that are probable, Al-Falih told a news conference in Riyadh.
Key Insights
State-run Aramco, known formally as Saudi Arabian Oil Co., needs to borrow or attract international investment for its planned purchase of chemical maker Saudi Basic Industries Corp. Aramco Chief Executive Officer Amin Nasser said in a November interview that all options are open for the financing of his company's planned purchase of a controlling stake in Sabic. The deal could be valued at about $70 billion Aramco is also planning an IPO, which could be the world's largest based on the government's valuation of the company at about $2 trillion Aramco's concession has oil reserves estimated at 263.1 billion barrels, the state news agency reported Aramco will announce its financial accounts soon, Al-Falih said The announcement of increased reserves coincides with Saudi efforts to promote positive news about the kingdom after the murder of Saudi columnist Jamal Khashoggi, whose killing has been attributed to Saudi agents and has led some investors to question ties with the country Saudi Arabia had reserves of 266.2 billion barrels in 2017, according to BP Plc's most recent statistical review Aramco reported it has access to 261 billion barrels of crude and condensate, according to its own 2017 annual review
Market Reaction
Benchmark Brent crude was trading 1.8 percent higher at $59.79 a barrel at 3:39 p.m. in London "We are concerned about volatility in the oil markets, and we have seen volatility go outside what we consider to be explainable or reasonable over the last quarter of 2018," Al-Falih said. "We've seen peaks and troughs in price and activity levels that we believe are completely unjustified by fundamentals."
With assistance from Javier Blas. To contact the reporters on this story: Anthony DiPaola in Dubai at adipaola@bloomberg.net; Vivian Nereim in Riyadh at vnereim@bloomberg.net. To contact the editors responsible for this story: Nayla Razzouk at nrazzouk2@bloomberg.net Bruce Stanley, Helen Robertson.
Generated by readers, the comments included herein do not reflect the views and opinions of Rigzone. All comments are subject to editorial review. Off-topic, inappropriate or insulting comments will be removed.
RELATED COMPANIES