Sanction-Proof Oil Rig Beats US Policy From Cuba to Russia
by Bloomberg
|
Chiara Albanese & Jack Farchy
|
Tuesday, December 19, 2017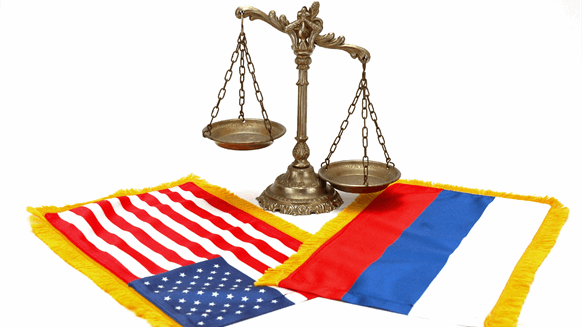 For Vladimir Putin, this is a second energy-sector victory in a little over a week.
(Bloomberg) -- The oil rig was built mostly in China and drilled its first well in Cuba. Now it's delivering a victory for Russia in its fight against U.S. sanctions.
Italian oil giant Eni SpA and Russia's state-controlled Rosneft PJSC are using the Scarabeo 9 ultra-deepwater rig to drill in water more than 2,000 meters (6,600 feet) deep in the Black Sea. It's the first well drilled by a western company at a Russian oil project that falls squarely under U.S. sanctions imposed on the sector in 2014.
For Vladimir Putin, it's a second energy-sector victory in a little over a week after the $27 billion Yamal liquefied natural gas project started shipping cargoes despite U.S. sanctions against its controlling shareholder.
"It is important not because of the size, but from a geopolitical perspective it is key," said Alejandro Demichelis, director at boutique investment bank Hannam & Partners. "Eni and the Italians in general have been closer to Russia than they have been to the U.S., at least in terms of oil and gas. They have always been on Putin's side to solve problems."
Rosneft Chief Executive Officer Igor Sechin said on Monday that drilling had started on the Maria-1 well in the past few days, highlighting the "technological complexity" of the project.
Legal Loopholes
It's also legally complex. Indeed, a request from Exxon Mobil Corp. earlier this year for a sanctions waiver to drill with Rosneft at a nearby license was rejected by the U.S. government.
For Eni to drill the well, which falls under U.S. and European sanctions targeting Russian shale, Arctic and deepwater oil development, the Italian company had to exploit a series of loopholes.
First, while European Union sanctions largely mirror those of the U.S., they do allow the "grandfathering" of projects that were agreed before sanctions were imposed.
Second, the Scarabeo 9, which is owned by Saipem SpA, is no ordinary deepwater rig. It was built mostly in China, to a Norwegian design. That means it sidesteps U.S. trade sanctions that restrict the use of U.S.-made or -designed equipment, even by non-U.S. companies.
The rig's first outing in 2012 was to drill for Repsol SA off Cuba.
Made in China
"The Scarabeo 9 is one of the very few units in the industry which is using a technology which is not an American one," Saipem's then CEO Pietro Franco Tali told investors before its maiden voyage to Cuba.
In a letter to the U.S. Securities and Exchange Commission in 2014, National Oilwell Varco Inc. confirmed it had sold a blow-out preventer, a key piece of high-tech kit, to Scarabeo 9 before the Cuba project. The Houston-based company said it stopped providing equipment to the rig as soon as it knew where it would be operating.
Earlier this year, the rig spent several months in port in the Canary Islands to make its towers bendable so it could pass through the Bosphorus and get to the Black Sea.
Eni and Saipem discussed the drilling campaign with the U.S. and Italian governments and received authorization to proceed, according to people familiar with the matter who asked not to be named because the talks were private.
1
2
View Full Article
Generated by readers, the comments included herein do not reflect the views and opinions of Rigzone. All comments are subject to editorial review. Off-topic, inappropriate or insulting comments will be removed.