Russia Says Oil Isn't on Agenda for G-20 Call
by Bloomberg
|
Olga Tanas and Andrey Biryukov
|
Thursday, March 26, 2020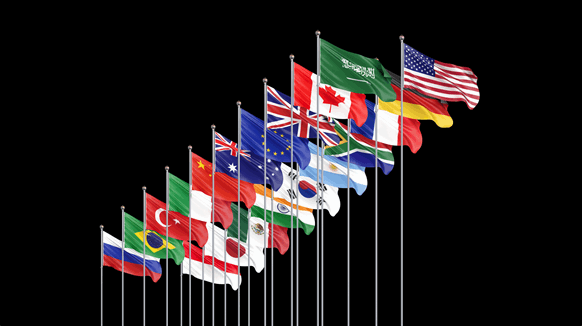 Russia said the agenda for the G-20 summit doesn't include a discussion of the oil market, despite the latest collapse in crude prices.
(Bloomberg) -- Russia said the agenda for the G-20 summit on Thursday doesn't include a discussion of the oil market, even after crude prices collapsed to the lowest in almost two decades.
"The topic of oil -- no," Dmitry Peskov, spokesman for Russian President Vladimir Putin, told reporters. That runs counter to earlier suggestions that the market would likely be discussed on the G-20 conference call, which is being held to better coordinate the global response to the coronavirus pandemic.
The gathering will be chaired by Saudi Arabia, de facto leader of the Organization of Petroleum Exporting Countries and until recently a close ally of Russia in organizing sweeping oil-production cuts. After the partnership broke down earlier this month, the Saudis vowed to flood the market with crude, just as the global virus outbreak threatened an unprecedented drop in demand.
The U.S. administration has pressed the kingdom to rethink those plans, with Secretary of State Michael Pompeo speaking to Crown Prince Mohammed bin Salman on Wednesday, according to people familiar with the situation. Oil is expected to be discussed on the G-20 call, at least as part of talks on the wider economy, one person said.
"For sure, the topic of the economic consequences for the global economy from the coronavirus will not remain untouched" during the discussions, Peskov said.
People with knowledge of Russia's position have said Putin will refuse to submit to what it sees as oil blackmail from Saudi Arabia. While Russia didn't expect the Saudis to trigger a price war, the people said, the Kremlin so far is confident that it can hold out longer than Riyadh.
--With assistance from Ilya Arkhipov.
To contact the reporters on this story:
Olga Tanas in Moscow at otanas@bloomberg.net;
Andrey Biryukov in Moscow at abiryukov5@bloomberg.net
To contact the editors responsible for this story:
James Herron at jherron9@bloomberg.net
Amanda Jordan
Generated by readers, the comments included herein do not reflect the views and opinions of Rigzone. All comments are subject to editorial review. Off-topic, inappropriate or insulting comments will be removed.