Russia Says It Cut Oil Output by 700,000 Barrels a Day in March
by Bloomberg
|
Bloomberg News
|
Monday, April 10, 2023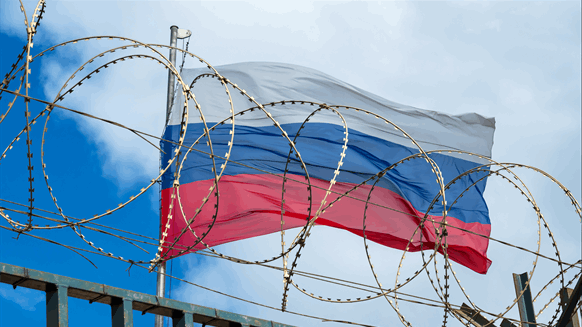 That figure is inconsistent with data on the nation's March seaborne exports and supplies to domestic refineries.
Image by Mihrzn via iStock
Russia's Energy Ministry said the nation reduced its oil output by about 700,000 barrels a day last month, according to a person familiar with the figures.
Yet that figure is inconsistent with data on the nation's March seaborne exports and supplies to domestic refineries — adding to the uncertainty over how much oil Russia actually pumps.
The Kremlin pledged to curb crude-only output by 500,000 barrels a day between March and December in retaliation for Western trade restrictions and a price cap imposed by the Group of Seven industrialized nations. The reduction was 40% higher, according to the Energy Ministry data.
Eight members of the Organization of Petroleum Exporting Countries, including de facto leader Saudi Arabia, agreed to join the voluntary cuts from May, bringing the total reductions to more than 1.6 million barrels per day in an effort to stabilize the global market.
The surprise decision drove an oil rally and set the stage for crude prices returning to $100 per barrel.
Russia will cut its crude-only output using February's production as the baseline, according to Deputy Prime Minister Alexander Novak. Bloomberg calculations based on industry data put that month's production at 10.1 million barrels a day.
The Energy Ministry data say producers pumped a daily average of 1.285 million tons of crude, the person said, asking not to be identified because the figures aren't public.
That's equivalent to just over 9.4 million barrels, meaning crude-only cuts totaled nearly 700,000 barrels a day last month.
The nation's total March production of crude oil and condensate averaged 1.413 million tons, the person said. That's equivalent to 10.36 million barrels per day, compared with 11.1 million barrels in February, according to Bloomberg calculations.
The resulting total cuts averaged 740,000 barrels a day, the data indicate.
Russia classified its oil statistics last year due to their "sensitive" nature, making it difficult to assess the implementation of supply cuts beyond the assurances of energy officials.
As a result, Russia watchers have started following the nation's seaborne oil exports and domestic oil-processing rates as gauges for crude production estimates. However, both indicators showed no visible declines last month.
The nation's four-week average crude loadings through March 31 were at their highest since June, while Russian refineries kept their throughput roughly flat, according to Bloomberg figures based on the nation's industry data and ship-tracking.
Russia's Energy Ministry couldn't immediately comment on the March production data and on what drove the pledged cuts.
Generated by readers, the comments included herein do not reflect the views and opinions of Rigzone. All comments are subject to editorial review. Off-topic, inappropriate or insulting comments will be removed.