Rich Rewards Await Top Oil Refiners as Ships Made to Switch Fuel
|
Wednesday, March 21, 2018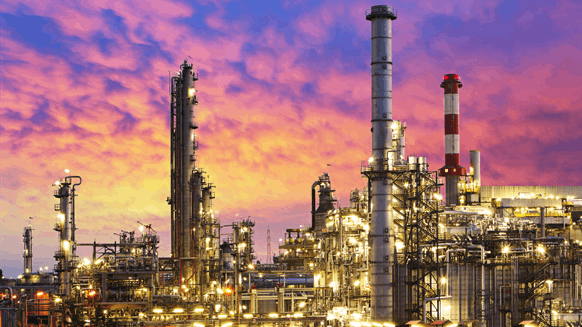 The world's most sophisticated refineries are about to enjoy great times thanks to what might seem like a minor tweak in rules for the type of fuel ships consume.
Simple Refineries
For less-sophisticated refineries, the post-2020 world is less clear.
"Some of the world's simplest refineries will likely be forced to cut runs or close," Energy Aspects Ltd. said in an emailed research note Wednesday. Production of high quantities of low-value fuel oil at some of Mexico's state-owned coastal refineries "will pose a growing financial headache to the Mexican government and likely prove unsustainable," the researcher said, noting that national oil companies often let money-losing plants stay in business.
A few refineries that run medium sour crude from Saudi Arabia and don't have coking capacity could be at risk, PBF Energy Inc. Chief Executive Officer Thomas Nimbley said at a conference in Houston earlier this month.
Still, demand for marine gasoil will swell to 1.74 million barrels a day in 2020, the Paris-based International Energy Agency estimates, adding almost a million barrels a day of the fuel compared to this year. The surge in demand is expected to be matched by a spike in diesel prices, the agency said in a March 5 report.
That should be good for simple plants in addition to complex facilities because margins will have to rise to make cleaner fuel from existing capacity, according to Steve Sawyer, head of refining at researcher Facts Global Energy.
"Refinery utilization has to be very high to make the product base that we need," he said.
With assistance from Rachel Graham, Laura Blewitt, Alaric Nightingale, Debjit Chakraborty, Alex Longley and Rakteem Katakey. To contact the reporter on this story: Bill Lehane in London at blehane@bloomberg.net. To contact the editors responsible for this story: Alaric Nightingale at anightingal1@bloomberg.net Brian Wingfield, John Deane.
1
2
View Full Article
Generated by readers, the comments included herein do not reflect the views and opinions of Rigzone. All comments are subject to editorial review. Off-topic, inappropriate or insulting comments will be removed.