Reeling From Job Cuts, Mexican Oil Country Pins Hopes on a Rebel
by Bloomberg
|
Amy Stillman
|
Wednesday, May 02, 2018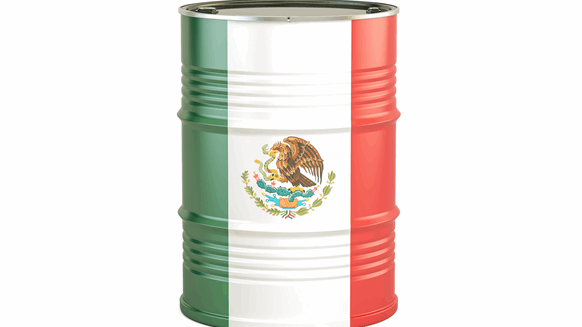 The promised wave of investment has yet to arrive.
(Bloomberg) -- In the wetlands of Tabasco in southeast Mexico, indigenous farmers stand guard outside oil wells. They have no official status -– but anyone who wants to do business there has to pay to get past.
At Well 144 in the massive Sen field, for example, owned by state-run Pemex, service companies say they have to pay off two such groups, who claim to represent local communities and landowners. In some areas there are as many as ten. They charge fees that can reach 50,000 pesos ($2,670) a month for the larger international firms.
There aren't too many other ways for the province's people to make money out of oil. In the four years since Mexico opened its energy industry to global business, more than 100 exploration and production contracts have been signed. But the promised wave of investment hasn't arrived, while Pemex and its contractors cut jobs as crude prices fell and haven't restored them in the current rally.
That's one reason why voters in Mexico's oil heartland are deserting the government in the run-up to July's presidential election. They're swinging behind the only candidate who's promising a more nationalist energy policy -– one that's alarmed investors.
'He Understands'
It helps that Andres Manuel Lopez Obrador is a local boy.
"Andres is from Tabasco, he understands the poverty we live in,'' said Pablo Osorio, one of the indigenous farmers watching over the well. "There are no hospitals, no big supermarkets. The only thing the oil reforms have brought us is polluted land.''
Lopez Obrador says he'll review contracts already signed with private oil companies, and may stop awarding new ones. He also promises to strengthen Pemex, and to build two new refineries –- one of them in Tabasco. Gasoline and electricity prices will be frozen for three years.
It looks increasingly likely that the 64-year-old will get the chance to implement that agenda. He's headed for a landslide win, according to Bloomberg's Mexico election tracker, which compiles local polls. It has Lopez Obrador on 47 percent -- almost 20 points clear of closest rival Ricardo Anaya, who backs the energy reforms.
'Error and Brake'
In the industry, there's concern that Lopez Obrador would return Mexican oil to the bad old days.
The reforms haven't halted a slide in Mexico's crude output, but supporters say they should be judged over the longer term. Reversing course now would be "an error and a brake on the country,'' said Javier Zambrano, chief executive officer of local oil company Jaguar Exploracion y Produccion.
Foreign capital is starting to arrive, ranging from global giants like Royal Dutch Shell Plc and Exxon Mobil Corp. to small drillers with big ambitions. Canada's Renaissance Oil Corp. was among the pioneers. It took part in just the third competitive auction ever held in Mexico, in December 2015, winning three onshore blocks.
The company's current output of 1,650 barrels a day is just the start, said founder Craig Steinke -- provided the reforms continue. "What's important is a steady flow of new opportunities.''
Who'll Pay?
Economists also worry that Lopez Obrador's plans will drain the public coffers. His refineries would cost billions of dollars each –- but Mexico already has six, operating at below 40 percent of capacity. Pemex is the world's most indebted oil major.
Freezing fuel prices has political appeal after a sharp hike last year, known locally as the "gasolinazo'' or price-slam. It was part of a liberalization that's encouraged companies such as Chevron Corp. to invest in gas stations and fuel-import facilities.
1
2
View Full Article
Generated by readers, the comments included herein do not reflect the views and opinions of Rigzone. All comments are subject to editorial review. Off-topic, inappropriate or insulting comments will be removed.
RELATED COMPANIES